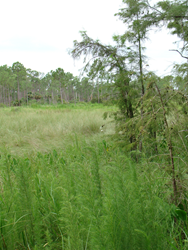 GULFPORT, Fla. (PRWEB) November 03, 2014
Enforcement and compliance issues related to phosphate mining, oil and gas exploration on Florida's wetlands will be the topic of a workshop at Stetson University College of Law on Nov. 13.
WHAT: The second annual ELI-Stetson Wetlands Workshop on "Wetlands Enforcement: Mining, Mitigation, and More" is being sponsored by the Environmental Law Institute and Stetson Law. This workshop will explore how mining operations impact Florida's wetlands and explain how enforcing wetland permits and mitigation can protect Florida wetlands.
WHEN: The program takes place between 11 a.m.-6 p.m. on Thursday, Nov. 13.
WHO: Panelists include Diana Jagiella of the Mosaic Company; Caitlin Weber of the Conservancy of Southwest Florida; Eric Hamilton of the Florida Petroleum Council; David Urban of Ecosystems Investment Partners; Clark Hull of Clark Hull & Associates; and Professor of Law Royal Gardner of Stetson Law.

Andrew R. Stewart of the U.S. Environmental Protection Agency will deliver the Foreman Biodiversity Lecture at 12 p.m.
Deborah Wegmann of the U.S. Army Corps of Engineers will deliver the Foreman Biodiversity Lecture at 3 p.m.
WHERE: Great Hall, Stetson University College of Law, 1401 61st St. S., Gulfport.
For more information about the program, and to register, visit: http://www.eli.org/events/eli-stetson-wetlands-workshop-2014.
Editor's Note: Members of the media, please contact Brandi Palmer in the Communications Office at 727-562-7381 or email palmer(at)law(dot)stetson(dot)edu for more information and credentials.
###
About Stetson University College of Law
Stetson University College of Law, Florida's first law school, has prepared lawyers and leaders since 1900. Today, Stetson leads the nation in blending legal doctrine with practical training, evidenced by its top-ranked programs in advocacy and legal writing. Through our academically rigorous curriculum and commitment to social responsibility, Stetson lawyers are ethical advocates ready to succeed in the legal profession.