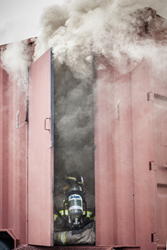 I lost my really good friend in a flashover 12 years ago and that's why I have such a passion for this.
PITTSBURGH (PRWEB) November 03, 2014
Today Draeger announced that it will bring its Live Fire Training Roadshow to The Great Florida Fire School on November 5-7 at the Treasure Coast Public Safety Training Complex, at the Indian River State College Fire Academy, in Fort Pierce, Fla. Training times will be repeated throughout the day to accommodate firefighter schedules.
Available to firefighters of all experience levels, the Draeger Live Fire Training Roadshow provides a safe and controllable environment where participants gain critical experience and skills using training systems and protective equipment manufactured by Draeger. Core to the curriculum is flashover training, during which senior fire trainers from the Los Angeles Fire Department teach participants techniques to recognize, delay and prevent flashover, a phenomenon that is one of the leading causes of death for firefighters today.
"Draeger's program is essential for departments that might not otherwise have access to such in-depth training due to budget constraints and lack of available courses in their area," said Captain Gregg Dixon of the IRSC Fire Academy. "Firefighters who have the opportunity to learn essential techniques in a simulated environment are better prepared to address the hazards they face in their jobs. This not only aids them in saving others' lives but also helps them in preserving their own."
In addition to learning flashover awareness, participants in the Draeger Live Fire Training will learn how thermal balance and off-gassing can impact effective firefighting techniques. All courses are taught in accordance with NFPA 1403 Standards for Live Fire Training exercises. To date, Draeger has conducted similar flashover training events in Detroit, Fairfax, Va., Minneapolis and Pittsburgh.
"Today's fires burn hotter and faster and are more deadly because building materials and internal furnishings have changed over time. As a result, yesterday's firefighting techniques are no longer adequate," says Les Boord, Fire Service and Federal Government Marketing Manager with Draeger Safety, Inc. "Draeger's Live Fire Training enables firefighters to gain hands-on knowledge and skills to address current fire hazards so that they can effectively and safely combat the dangers they face in their jobs every day."
About The Great Florida Fire School
With 80 certified instructors and approximately 180 attendees, the Great Florida Fire School features six days of continuous fire related classes designed to train all fire departments, from the large city departments to the small rural ones. The event is a cooperative outreach effort between the Florida State Fire College and local emergency services and educators. Its mission is to enhance the knowledge and skills of members of the fire and rescue community by delivering useful and well-executed educational and training experiences annually throughout the various regions of Florida. For additional information, visit http://greatfloridafireschool.org/.
Draeger. Technology for Life®
Draeger is an international leader in the fields of medical and safety technology. Our products protect, support and save lives. Founded in 1889, in 2013 Draeger generated revenues of around EUR 2.37 billion. The Draeger Group is currently present in more than 190 countries and has about 13,500 employees worldwide. Please visit http://www.draeger.com for more information.