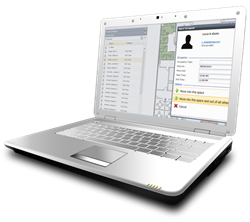 Londonderry, NH (PRWEB) November 04, 2014
The EvolveFM Move Management module helps users seamlessly coordinate employee and asset moves, adds and changes (M/A/C) efficiently, with minimum disruption to the organization. The EvolveFM Operations and Maintenance module delivers functionality for all basic operations and maintenance management needs, including both demand-based and preventive maintenance. EvolveFM solutions are fully browser-based and can be hosted either "in the cloud" or behind the corporate firewall, accommodating individual customer requirements.
EvolveFM MOVE MANAGEMENT FEATURE SUMMARY
With EvolveFM Move Management, moves are managed more effectively, ensuring workspaces and resources are ready for immediate employee productivity. The resulting employee location information is updated in floor plans automatically and can be shared instantaneously with other departments that rely on accurate employee data, like security, IT, ERP and HR systems. With EvolveFM Move Management and Planning, users can:

Provide executive decision-makers graphical, easy-to-understand views of spaces and move plans.
Create a collaborative environment for executives, employees, facility managers and key task groups to improve efficiency and minimize costs associated with M/A/C.
Leverage existing CAD data to associate floor plans with personnel, assets and spaces.
Distribute work orders to execute M/A/C plans using built-in operations management features. Automate one-person moves using intranet-based requests or via drag-and-drop actions from occupant lists.
Easily plan, manage and execute moves of all sizes while minimizing disruption to employees and the overall organization.
To learn more about the EvolveFM Move Management & Planning module, visit http://cafmresources.com/products/evolvefm-move-management/
EvolveFM OPERATIONS & MAINTENANCE FEATURE SUMMARY
Whether an organization prefers a highly automated rules-based system that gets a work request into the hands of a technician virtually automatically, or a more manual system where helpdesk personnel or supervisors make decisions about when and who handles a particular work order, the EvolveFM Operations & Maintenance system provides a complete and flexible operations feature set.
Create, receive and route web-based work requests - the work request is the basic communication tool for reporting a problem in the facility to management so that action can be initiated to get it fixed.
Receive alerts on critical issues in the workflow - EvolveFM allows for prioritizing and track work that needs to be done.
View a comprehensive list of work orders in process – users can view activity feeds, data grids and reporting that allows management to see what work has yet to be completed and how old that work is.
Assign work orders to available personnel - match up work orders to maintenance staff based on their availability and skill sets.
Attach documents, including drawings and specs, etc. – users can see drawings, pages of repair manuals, and other documents, which speed up the asset repair and maintenance process.
Send work order instructions to PDA – users can send email notifications defined in workflows to all stakeholders who need to be kept informed.
And much more! To learn more about the EvolveFM Operations and Maintenance module, visit http://cafmresources.com/products/evolvefm-operations-and-maintenance/
About CAFM Resources LLC
CAFM Resources creates and implements powerful, easy-to-use, affordable Facilities Management software applications. CAFM Resources is focused on the development and implementation of solutions that address the four primary functions of facilities management: Space & Asset Management, Move Management, and Maintenance Management. The company focuses on integrating, supporting and personalizing these solutions for facility professionals.
CAFM Resources was founded in 2007 by Randy Ledoux, formerly of Applied Spatial Technologies, the original developers of FMDesktop. It has focused on developing the next evolution in facility management software, starting with FMView, which ultimately provided the architecture for EvolveFM. EvolveFM takes the best elements of FMView and FMDesktop, web enables the complete solution, adds many new features and functions to create facility management software that everyone can use.