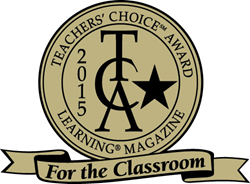 Tyler, TX (PRWEB) November 03, 2014
Today Mentoring Minds announced that four of its resources are winners of 2015 Teachers' Choice Awards for the Classroom. Developed by Texas educators for Texas schools, Motivation Reading, English Language Learners Strategies Guide, Response to Intervention Strategies Flip Chart, and Assessments: Strategies, Techniques, and Tools Guide are among the best classroom-tested, teacher-recommended products available today, according to the expert educator-judges at Learning Magazine.
Each year, a nationwide panel of educator-judges names the standouts in books, classroom supplies, educational games, websites and more. Mentoring Minds' products underwent two rounds of rigorous judging for quality, instructional value, ease of use and innovation. The products with the top scores were selected to win.
"Our resources for Texas schools are developed by Texas educators who have a deep understanding of our state standards and assessments," said Robert Bush, CEO of Mentoring Minds. "We are incredibly proud to have our programs ranked among the top in the nation by the Teachers' Choice Awards' educator-judges."
Developed specifically for Texas classrooms, Motivation Reading is a comprehensive, rigorous and relevant supplemental reading resource developed by Texas educators. Motivation Reading integrates critical and creative thinking and includes reading selections that reflect a variety of literary and informational genres. This supplemental resource addresses all readiness and supporting standards of the Texas Essential Knowledge and Skills (TEKS) and is designed to promote students' comprehension and analytical skills. With a unique emphasis on critical and creative thinking, Motivation Reading empowers students to extend and apply learning beyond the classroom.
The other resources receiving awards, the English Language Learners Strategies Guide, Response to Intervention Strategies Flip Chart, and Assessments: Strategies, Techniques, and Tools Guide are tools to support classroom learning. They help teachers design high-quality instruction, identify and meet the needs of the diverse learners, and respond to the needs of their students. The guides and flip charts provide background knowledge, techniques, tools and strategies for K-12 instruction.
About Mentoring Minds, the Critical Thinking for Life CompanyMentoring Minds, the Critical Thinking for Life Company, is a national K-12 publisher that develops affordable, effective learning tools that give students the critical thinking skills to succeed, not just in the classroom, but also in life. Experienced educators create award-winning K-12 print and online resources and mobile applications that integrate effective practices for instruction, assessment and learning for students. With offices throughout the United States, Mentoring Minds meets the instructional needs of teachers and students at a rapidly growing number of schools and districts nationwide. For more information about Mentoring Minds and its educational resources, call 800-585-5258 or visit mentoringminds.com.