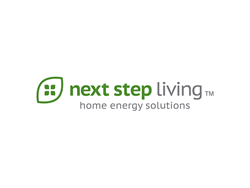 Boston, MA (PRWEB) November 03, 2014
Boston—November 3, 2014 – NECEC (New England Clean Energy Council and NECEC Institute) awarded Boston-based Next Step Living® its 2014 Green Tie Gala Award for Breakout Company of the Year last week.
NECEC's Breakout Company of the Year award is given to an organization that has stood out from the crowd and has made a breakthrough in their sector, hit an inflection point in revenue growth or its commercialization process and established itself as both an industry leader and market-maker. Past winners of this award include Digital Lumens (2013), Harvest Power (2012) and First Wind (2011). This year, Next Step Living tied with GreenerU, an organization that focuses on sustainability initiatives for higher education.
"Next Step Living has set the bar with its unique, whole-home approach to help homeowners save energy and money through energy efficiency and renewables," said NECEC President Peter Rothstein. "We are thrilled to provide them this award and congratulate all of tonight's award winners, which exemplify innovative companies leading research, development, adoption and deployment of clean energy technologies in our region."
"We're both humbled and honored to have won Breakout Company of the Year from the NECEC," said CEO and founder of Next Step Living Geoff Chapin. "In 2014 alone, we've already helped more than 25,000 New England residents save money and live more comfortably and sustainably in their homes. We're looking forward to increasing this impact in 2015."
NECEC's 7th Annual Green Tie Gala was held at the Fairmont Copley Hotel in Boston and attracted more than 400 leaders and stakeholders in the clean energy industry, including company CEOs, government officials, service providers, academics, venture investment firms, labor and large commercial end-users and area utilities. Other 2014 Green Tie Gala award recipients include First Wind, Ambri and Greentown Labs. In addition, NECEC honored Rob Day, partner at Black Coral Capital (and Next Step Living Board of Directors member) for his leadership in helping grow NECEC's regional innovation network.
About Next Step Living
One of the fastest-growing companies in the country, Next Step Living® is the leading provider of whole-home energy solutions. Headquartered in Boston's Innovation District, Next Step Living makes it easy and affordable for people to live in homes with a low environmental impact. A one-stop service provider of informed advice, funding guidance and expert work, Next Step Living partners with more than 400 municipalities, civic organizations, leading corporations and utility companies to deliver energy-efficient and environmentally friendly solutions for better living. Since 2008, Next Step Living has helped New England homeowners achieve more than $20 million in energy savings, which is expected to grow to more than $100 million in the next five years. Next Step Living makes our world better. Please visit NextStepLiving.com for more information.
About NECEC (The New England Clean Energy Council and the NECEC Institute)
NECEC is a regional non-profit organization representing clean energy companies and entrepreneurs throughout New England and the Northeast through programs and initiatives that help clean energy businesses at all stages of development to access the resources they need to grow.
NECEC includes the New England Clean Energy Council, which is the lead voice for hundreds of clean energy companies across New England, influencing the energy policy agenda and growing the clean energy economy, and the NECEC Institute, which leads programs that support Innovation & Entrepreneurship, Cluster and Economic Development and Workforce Development.
NECEC's mission is to accelerate the region's clean energy economy to global leadership by building an active community of stakeholders and a world-class cluster of clean energy companies.