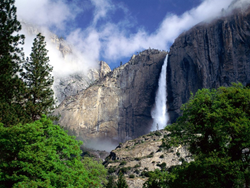 Tom fisher's presentations are so graphic and beautiful, they really make you feel like you're experiencing his journey's with him.
Grass Valley, CA (PRWEB) November 12, 2014
Join OLLI (Osher Life Long Learning Institute) at Sierra College on Monday, November 17, for a day of intellectual and visual exploration as Tom Fisher presents - Origins of Yosemite and a Photographer's Journey. Tom Fisher had a dual career in aerospace and archeology designing for NASA astronauts, he has also conducted archeological field research in China, Italy, and throughout Central America. Tom has visited and photographed major volcanos all over the world and national parks in the US, China, Costa Rica, Bombay and Herculaneum.
This is a two-part lecture (with a break for lunch).
Session 1
The first session will examine how the area initially was created as geological processes such as plate tectonics, ice age phenomena, climate changes and environmental responses ravaged it over the many eons. Clearly, plate tectonics and mountain uplifts created the Park's backbone, startlingly evident even today. See the various geological stages and incredible results that carved the Park over the millions of years evidenced by the scars and unusual yet beautiful formations left to view. Next, get an overview of the Park as seen today and ending with a review of the written and photographic history of the site itself.
Session 2
Come along on a photographers walk in the Park. Tour the Park from the lowest levels to the towering peaks, summits, domes, and see the glacier scattered massive boulders lain randomly all over the Park. Included will be the magnificent forests, bountiful lakes, and meadows all alive with melodious songs of flittering birds. Highlighted will be the kaleidoscopic rainbow of color and texture contrasted with the shear and stark tones of the incredible carved granite, sliced like butter, rising from the floor like huge sentinels guarding this Park and its incredible domain. "Fisher Favs" (specially selected photographs) will follow, time allowing.

Where: Sierra College – Nevada County Campus, Room N12-103
When: Monday, November 17, 2014
Session 1: 10 AM - 12 PM
Lunch Break: 12-1:30 PM
Session 2: 1:30 - 3:30 PM
Cost: Free for Club OLLI members. $10 non-club OLLI members or join Club OLLI now for $20 (membership expires July 31, 2015) Feel free to attend only one session. To register send an email to olli(at)sierracollege(dot)edu or call 916-781-6290. Reference course #Club805 -Yosemite