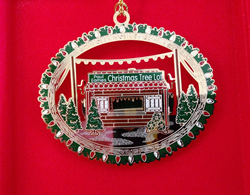 We are excited to have the Eames family and the Christmas tree lot representing Albany this year.
Albany, Georgia (PRWEB) November 04, 2014
Easter Seals Southern Georgia and the City of Albany's Mayor, Dorothy Hubbard, unveils the winning ornament idea for Easter Seals Southern Georgia. Paul Eames Christmas tree lot came up on top in a close race where the public voted on Facebook for their favorite idea for this years ornament. Votes came from all over the country to boost this years winner. The ornament can be purchased for $15.00 at Easter Seals Southern Georgia located at 1906 Palmyra Rd. in Albany. A $2.00 shipping fee will be charged for orders needing to be mailed.
In 1963 Coach Paul Eames and three other coaches David Cravey, Harold Deen Cook and Wilbur Lofton started selling Christmas trees on the corner of Slappey and Waddell. They began hiring young ball players to do most of the heavy work. Now, 51 years later, Paul Eames son Glenn is running the tree lot and is hiring 3rd generation ballplayers to work where their fathers and grandfathers worked. Generations of families have purchased trees from Paul Eames Tree lot which now sits on Dawson Rd. and Eva St.
Easter Seals Southern Georgia provides exceptional services to ensure that all people living with disabilities or special needs and their families have equal opportunities to live, learn, work and play in our communities. To learn more go to our website at http://www.easterseals.com/southerngeorgia/ or call 229-439-7061.