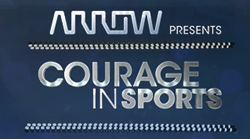 Chicago, Illinois (PRWEB) November 11, 2014
On November 16 at 5 p.m. EST (in most markets, depending on NFL coverage), Intersport will proudly present the 25th edition of "Arrow Electronics presents Courage in Sports" on CBS. The silver anniversary production brings new stories of inspiration while looking back on a quarter-century of tales of athletes overcoming the greatest of odds.
"This annual series has been the most rewarding and engaging content for us to produce," said John Paquet, vice president of Content for Intersport. "The athletes we've profiled highlight the strength of human perseverance. This edition forcefully continues that tradition."
More than 100 stories have been explored since the first "Courage in Sports" aired in 1989. Among them:

Greg LeMond, a Tour de France champion who took a stand against doping (1991)
Scott Reese, a blind high school football kicker (1995)
Dr. George Simkins, arrested for trespassing at the all-white, municipal golf course (2003)
Josh Hamilton, overcoming substance abuse (2008)
Conner Stroud, a youth tennis star with no legs (2013)
The 25th edition features former "Courage in Sports" athletes, along with six new stories:

Skateboarding. It's a sport that draws the most daring, eclectic and outrageous athletes in the world. But across the globe in Afghanistan, it's being utilized in a way that can not only change childhoods…but change lives forever. For more than seven years, "Skateistan", an organization started by a skateboarder himself, has influenced children around the world: starting with young girls in the Middle East.
Paul Schaus: former U.S. Marine. Rico Roman: former US Army Sergeant. Josh Sweeney: former US Marine. Jen Lee: current US Army Sergeant. All four are leg amputees; three lost their legs from explosive devices while serving in Afghanistan. But their bond of brotherhood goes further than the battlefield. All four won Gold medals at the 2014 Sochi Paralympic Games…in Sled Hockey. Sweeney scored the winning goal against Russia, the only goal.
Hunter Gandee is a 14-year-old wrestler and captain of his school's team. His biggest passion was doing whatever he could to help his 7-year-old brother, Brayden who has cerebral palsy and cannot walk without a walker. Hunter decided to do something monumental: in early June, he carried him on his back 40 miles to raise money for the condition...from Temperance, Mich., to the University of Michigan's campus in Ann Arbor where the college wrestling team waited.
Former Indy Racing League driver Sam Schmidt netted first victory at Las Vegas Motor Speedway in 1999. On Jan. 6, 2000, Schmidt crashed at Walt Disney World Speedway while prepping for the new racing season. He has been a quadriplegic, wheelchair-bound, ever since. But in 2014, Arrow Electronics built him a specially designed car controlled with his head. He soon found himself back on the track pacing the 2014 Indianapolis 500.
"Patrick Ivison and Ricochet, The Surf Dog"
When Patrick Ivison was just 14 months old, he and his mother were walking behind a parked car when the driver suddenly backed up and ran him over. He was diagnosed as a quadriplegic – restricting him to a wheelchair for the rest of his life. But Patrick had no plans to sit still. When he was 14 years old, his life changed forever when he met Ricochet, a golden retriever service and "surf" dog. From that day on, Ricochet was body surfing with Patrick on the same board: for fun, for training and in real competitions.
"Stacy Lewis, Straightening Out A Dream"
The once and future no. 1 player in women's golf, Stacy was diagnosed with scoliosis at age 11. She was confined to a back brace for six and a half years. But her passion for golf was stronger than the hold the brace had on her. After a major surgery as a freshman at the University of Arkansas, her hard work drove her to big finishes as an amateur and as a pro – all the way to the top spot in the world.
About Intersport
Since 1985, Intersport has been an award-winning innovator and leader in the creation of sports and entertainment-based marketing platforms. Intersport creates unique content and experiences for clients that attract and engage passionate audiences through three divisions: Sponsorship & Event Marketing, Sports Properties, and Sports & Entertainment Content (for broadcast and digital media, including CelebTV.com). To learn more about Intersport, log on to http://www.intersportnet.com, like us on Facebook (http://www.Facebook.com/IntersportBuzz) or follow us on Twitter (@IntersportBuzz).