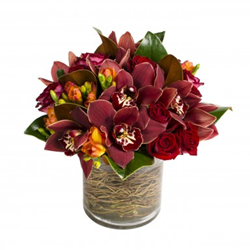 New York, NY (PRWEB) November 05, 2014
Big Apple Florist , a premier New York City florist since 1946, is excited to introduce their latest seasonal floral collection. With fall in full swing, the brightly-colored seasonal bouquets and flowers are perfect for customers who want to celebrate the full splendor of autumn.
Customers can choose from a wide range of arrangements and flowers – created by award-winning floral designers – to decorate their home, corporate office, weddings or social events. The highlights of this new collection include Angular Assortment, an intricate arrangement of roses and orchids with geometric steel grass accents, and Mysterious Garden, a mixture of orchids and calla lilies.
"The fall season is synonymous with stunning scenery and colors, and we designed each entry in our new collection with this in mind," says Hannah D'Ottavio, Director of Sales and Marketing at Big Apple Florist. "Every floral arrangement in our fall collection is available for same day hand-delivery or pick-up, helping customers brighten up their home or office in honor of the change in seasons."
Besides Angular Assortment and Mysterious Garden, this selection includes offerings with some of the most beautiful fresh flower bouquets, green foliage, and blooming plants in New York City, including:

Orchid Cascade, a unique combination of roses and cymbidium orchids.
Aquamarine, which includes antique blue hydrangea with contrasting white roses.
Calm Before the Storm, a whimsical display of cymbidium orchids.
Tropical Paradise, groupings of yellow roses, mango callas and cymbidiums.
While perusing this stunning seasonal collection, customers can also shop an assortment of floral arrangements for everyday gift-giving, including Orchids, Roses, and Plants. With the holiday season coming up, now is a great time to start stocking up on Gourmet Gift Baskets and Gift Cards that include delicious autumn snacks and treats.
For those in the holiday spirit simply looking to spruce up their home or office for the short or long-term, Big Apple Florist offers plant and tree rental services to all of New York City. Customers can select from a wide range of natural plants, trees, wreaths, and garlands that Big Apple Florist will hand-deliver to their location for as long as shopper's desire.
For more information on the new fall collection and other floral options available, visit http://www.bigappleflorist.com
About Big Apple Florist
Big Apple Florist has been serving the New York City area with garden fresh flower deliveries since 1946. They have a wide range of fresh floral arrangements and designs for home, office and corporate and event planning needs. Their highly personalized experience is built around same-day hand delivery of fresh seasonal flower bouquets, green foliage, holiday décor, blooming plants and Fruit and Gourmet gift baskets to anywhere in New York City.