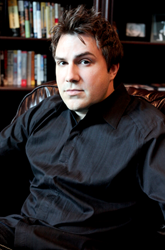 What Dublin is proposing is adding high-tech sensors throughout the city. These sensors will gather air quality, noise levels and climate data
(PRWEB) November 03, 2014
When experts consider the rise of the Internet of Things, they may have expected areas like Silicon Valley or somewhere in Asia to rise as the leader in this field, but a recent article in National Geographic entitled "An Unexpected Capital for the Internet of Things," points to Dublin as the city that is rising to the top of the Internet of Things world. Jason Hope, futurist and entrepreneur based in Scottsdale, indicates that this rise is surprising, but exciting, in relation to the overall growth of the Internet of Things.
According to the report, Ireland is not the teched-out capital one would expect to lead the Internet of Things. "Rather," states Hope, "it has the business climate necessary to attract the world's leading tech companies. This, in turn, has turned it into the place where Internet of Things research is happening on a wide scale."
In recent years, the European headquarters of Google and Intel have moved to Dublin. Other local tech companies include Amazon, Twitter, Zynga, LinkedIn, PayPal and Facebook. But that is not what is earning the city the title of the Capital of the Internet of Things.
"What Dublin is proposing is adding high-tech sensors throughout the city. These sensors will gather air quality, noise levels and climate data," states Hope. "This type of smart network embraced on a city-wide level shows just how much the Internet of Things is poised to change society."
According to National Geographic, the City Council of Dublin has another purpose behind this. Their hope is that the futuristic network will attract additional companies looking for an innovative city. By the end of the project, Dublin will have about 200 gateways with about a dozen sensors each. These sensors will use Intel Quark technology, which was developed in the country and requires little power use.
"I am excited to see where this project takes Dublin," says Hope. "While it's early yet to call any city the leader in the Internet of Things development, this city-wide matrix is an interesting innovation. I wouldn't be surprised to see this idea popping up all across the globe."
About Jason Hope
A leader in innovation and technology, Jason Hope is an Arizona native who uses his success as an entrepreneur to help the local community. His charitable work focuses on using technology to improve the overall state of the community and the health of people across the globe. Learn more about his work at http://www.jasonhope.com/philanthropy.