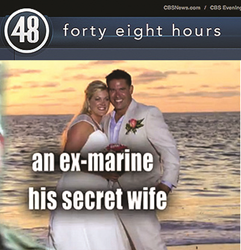 Encinitas, California (PRWEB) November 11, 2014
Photographer Jack English will appear on the November 15, 2014 episode of the television show "48 Hours" to recount his photo session experience with a Vista couple just weeks before the groom was arrested by the FBI on obstruction of justice charges in connection with the murder and dismemberment of the groom's ex-girlfriend in Panama. (1) English was unaware that the groom was being investigated by the FBI at the time of the photo shoot.
According to court documents, Vista resident and ex-marine Brian Brimager is accused of providing false statements to FBI investigators during their investigation into the disappearance of his then girlfriend Yvonne Baldelli in Panama in 2011 where they were living at the time.
Baldelli's dismembered remains were discovered stuffed in a military-type duffle bag off the coast of Panama in 2013, two years after her disappearance. (2,3)
Weeks after returning to the United States, Brimager married the mother of his daughter Kristin Werkhoven.
In September 2013, English was at a children's park with his daughter in Carlsbad where he happened to meet Brimager. Brimager mentioned he needed some photos taken of him and his new fiancé so English gave him his business card.
Brimager later contacted English to hire him to shoot wedding photos of him and his fiancé Kristin Werkhoven on the beach in La Jolla.
English did the photo session with the couple and posted a few of the photos on his online wedding gallery.
A few months later, English received a strange and disturbing email saying, "How dare you have pictures of Brimager on your website. He's a murderer!"
This prompted English to do some research online and he discovered news articles detailing the disappearance of Brimager's ex-girlfriend Yvonne Baldelli and the recent discovery of her remains off the coast of Panama.(3) He also learned of Brimager's arrest by the FBI for obstruction of justice charges as well as pending murder charges filed by the Panamanian government.(2) English promptly removed the photos from his wedding photography site when he discovered that Baldelli's remains were found.
English wrote a blog post on his business website titled, "I Didn't Know I Was Photographing a Murderer!" This post along with the wedding photos caught the attention of "48 Hours" producers who contacted English to be interviewed for an upcoming episode featuring the Brimager case.
"I was disturbed," said English. "So many thoughts we're spinning in my head. When I photographed Brian, I knew nothing about his situation and his missing girlfriend that was in Panama."
English is available for interviews regarding his experience with Brimager. Images of Brian Brimager and his wife are available for licensing. The "48 Hours" episode featuring the Brimager case will air on November 15 at 10 P.M. on CBS 8.
About Jack English
Jack English is a renown surfing photographer and owner of Surf Images, the largest supplier of online surfing stock photography. He lives in Encinitas, California.
References
(1) Southern District of California. 10 December 2012. Grand Jury UNITED STATES OF AMERICA, Plaintiff, v. Brian Karl Brimager, Defendant. Case No. 13 CR 238 1JM.
(2) Fiorina, Steve (2014, February 7). Panama authorities charge Brian Brimager in death of Yvonne Baldelli. ABC 10 News. Retrieved from http://www.10news.com/news/panama-authorities-charge-brian-brimager-in-death-of-yvonne-baldelli-020714.
(3) Davis, Kristina (2014, February 7). New charges filed in Panama slaying case. UT San Diego. http://www.utsandiego.com/news/2014/feb/07/panama-brimager-baldelli-indict-arraign.