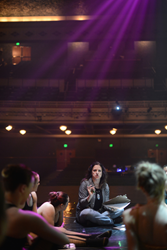 We can all relate to dance if we let ourselves physically feel it.
Salt Lake City, Utah (PRWEB) November 03, 2014
The Salt Lake Community College Dance Company has gathered faculty and dancers from the community to perform the fall concert "The Language of Dance" November 21 and 22, 7:30 p.m. each evening at the South City Campus' Grand Theatre, 1575 South State Street, Salt Lake City.
Choreographers for the performance were asked to focus on a specific artistic element that gives dance its ability to communicate by exploring space, shape, time and effort to reveal how dance can speak about feelings, ideas and experiences of being human.
"The elements involved in these dance numbers show us the communicative potential to human movement," said Tess Boone, SLCC associate professor of dance. "We can all relate to dance if we let ourselves physically feel it."
The show will feature the polyrhythms of West African dance and percussion, a story about guilt and responsibility, a Bollywood style dance, the metaphors of circles for a "hypnotic, lyrical piece" and a number that draws inspiration from the nuclear explosions at Hiroshima and Nagasaki.
Tickets are $10 or half price with a donation of two nonperishable food items for the Utah Food Bank. For more information about tickets call 801-957-3322.
The Grand Theatre, adjacent to SLCC's Center for Arts and Media, was chosen by Sundance Institute to be a screening venue during the 2015 Sundance Film Festival. The new Center, which is physically connected to Innovations High School, serves an estimated 9,000 students and brings together 17 programs under one roof for SLCC's School of Arts, Communication and New Media. The Center is a new $45 million state-of-the-industry facility with 130,000 square feet of additional space at its South City Campus, 1575 South State Street, Salt Lake City. World-class features include a 2,000 square-foot television studio and control room, a 3,000 square-foot film stage, a 36-seat screening room, three MIDI (Musical Instrument Digital Interface) classrooms, 22 editing bays, an animation lab, radio station and a recording studio with 64 channels for collaboration in as many locations throughout the building.