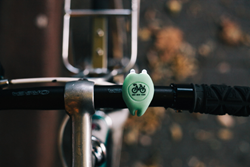 The first step to being safe is being seen.
New York, NY (PRWEB) November 03, 2014
As winter draws near, the number of daylight hours dwindles and many find themselves commuting to and from work in the dark. To encourage bike commuters to persevere through the winter, Bike New York, a local nonprofit that promotes cycling through public events (such as the TD Five Boro Bike Tour, the world's biggest charitable bike ride) and free bike education programs, will give away more than 2,000 bike lights and bike safety flyers at locations around the City this week.
According to New York State law, cyclists must have and use a front white light and a rear red light from dusk till dawn; as such, each cyclist that stops by one of the following locations will be given a white and a red light, while supplies last. "The first step to being safe is being seen," said Ken Podziba, president and CEO of Bike New York.
Tuesday, November 4
8-10AM (Pier 54, Manhattan)
5:30-7:30PM (Pier 54, Manhattan)
Thursday, November 6
8-10AM (Manhattan Bridge, Manhattan)
5:30-7:30PM (Queensboro Bridge, Queens)
In addition to this giveaway, Bike New York offers free Bike Commuting 101 and Winter Riding 101 classes to empower cyclists to become year-round bike commuters.