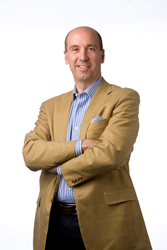 In an ever changing world strategic planning is less and less helpful. What needs to replace strategic planning is a thoughtful policy of experimentation.
Washington D.C. (PRWEB) November 04, 2014
In our ever changing and rapidly paced world, future-proofing one's business is a key component to success. Futurist Jack Uldrich makes a living traveling the world and writing on how to do just that, and Grant Thornton is bringing him in to address their Advanced Manager Program in Washington D.C. to speak with 62 of their up and coming leaders from all around the world. Individuals from 33 countries will be represented at the event. The purpose is to help these young leaders prepare for a swiftly shifting workplace in the coming years.
Founded in Chicago in 1924, Grant Thornton is one of the world's leading organizations of independent audit, tax and advisory firms and they works with a broad range of publicly and privately held companies, government agencies, financial institutions, and civic and religious organizations. By fostering responsible entrepreneurship, Grant Thornton helps their clients grow and fuel a thriving economy. Similarly, Uldrich does the same thing by inspiring clients like Grant Thornton, Verizon Wireless, The American Medical Association, ABB, Emerson and McGladrey to embrace change and prepare wisely for the ever shifting sands within their specific workplace.
Uldrich's work is based on the transformational principles of unlearning – or freeing yourself from obsolete knowledge and assumptions – as a strategy to survive and thrive in an era of unparalleled change. He argues that creativity and action are more powerful and versatile than knowledge. "Leaders must become aware of the extraordinary changes taking place across today's global landscape. In fact, the Internet of Things (also known as the Industrial Internet) has alone been estimated to be a $15 trillion business opportunity in the coming decade," says Uldrich.
He will round out his speaking engagements this week speaking at the Farm Credit Services Leaders Conference in Omaha, NE., and the Clearesult Annual Energy Summit in Austin, TX.
Parties interested in learning more about Jack, his books, his daily blog or his speaking availability are encouraged to visit his website. Media wishing to know more about either the event or interviewing Uldrich as a futurist or trend expert can contact Amy Tomczyk at (651) 343.0660.