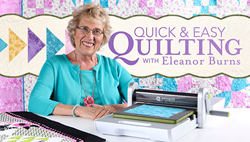 "We are excited to work with Craftsy and Eleanor Burns on this online class. Eleanor has over 35 years of experience and is revered in the quilting community."
Omaha, NE (PRWEB) November 06, 2014
AccuQuilt has partnered again with Craftsy to create the online class Quick and Easy Quilting with Eleanor Burns, which shows students how to make three exquisite projects using its fast and easy GO!® Fabric Cutter.
Burns, a legendary quilter and expert instructor, has written over 100 quilting books and created signature fabric and pattern lines. Burns also hosts her own TV series, Quilt in a Day, which broadcasts nationwide and abroad.
"We are excited to work with Craftsy and Eleanor Burns on this online class. Eleanor has over 35 years of experience and is revered in the quilting community," said Steve Nabity, AccuQuilt's chief energizing officer.
The online class, Quick and Easy Quilting with Eleanor Burns, includes seven video lessons on how to make the Flower Basket wall hanging as well as the Garden Walk and Geese in the Garden quilts. Additionally, Burns teaches techniques for piecing accurately, pressing super-flat blocks and fusible machine appliqué.
The Craftsy learning platform makes it possible for students of all levels to learn from the world's best instructors whenever and wherever they want, as access to classes never expires.
About AccuQuilt—Better Cuts Make Better Quilts
Headquartered in Omaha, Neb., AccuQuilt offers quilters, fabric crafters and retailers a premiere line of fabric cutters, dies, quilting patterns and other quilt and fabric cutting solutions that help quilters quickly and accurately cut shapes for quilting and fabric crafts. AccuQuilt also offers quilters a wide variety of rich educational resources to enhance their quilting experiences. Cutting with AccuQuilt cutters is a natural evolution of fabric cutting methods. "First scissors…then rotary…finally…AccuQuilt" for fast, easy, accurate fabric cutting. For more information, visit accuquilt.com or call 888.258.7913.
About Craftsy
Craftsy is the preeminent online destination for passionate makers to learn, create and share. With online classes, popular supplies and indie patterns, over five million creative enthusiasts are taking their skills to new heights. Craftsy's online classes in quilting, sewing, knitting, cake decorating, drawing, painting, cooking, photography and many more categories combine top-quality content, anytime convenience and the intimacy of an in-person experience with the world's best instructors. Members of the Craftsy community – whether neighbors or makers across the world – inspire and support each other with ideas, tips and positive feedback along the way. For more information, visit craftsy.com.