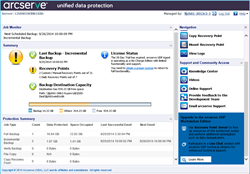 With today's announcement of our free workstation, enhancements to UDP and the exciting news that we will expand our product line into the appliance market, Arcserve is continuing to uniquely and quickly help customers reduce complexity.
MINNEAPOLIS, Minn (PRWEB) November 04, 2014
Arcserve, LLC ("Arcserve"), announced that it will build upon significant momentum for its award-winning Arcserve Unified Data Protection (UDP) since its debut in May 2014 by expanding its product portfolio into the Purpose-Built Backup Appliance (PBBA) market in early 2015 with platforms powered by UDP. The company also announced a free edition of its software for endpoint backup and recovery, as well as a powerful update to UDP, which includes enhancements for improved application and hypervisor environment protection.
"We are executing our product strategy by expanding our routes to market with a set of appliances that leverage UDP as the core technology. While most solutions in the market today are very narrow in scope, Arcserve will uniquely deliver a unified data protection appliance for the SMB and mid-market segments," said Steve Fairbanks, vice president, Products, Arcserve.
"As a new, rapidly growing segment of the data protection and recovery space, the PBBA market should hit $3.4B in revenue in 2014," said Eric Burgener, research director, IDC storage practice. "A unified data protection platform like Arcserve UDP, with its centrally managed integrated backup, recovery and high availability capabilities, is a great way to deliver the ease of deployment and management for which PBBAs are known and this introduction should open up significant new growth opportunities for the company."
Additional News Highlights:

Arcserve UDP free workstation edition for endpoint protection: Places UDP into the hands of many and underscores the company's commitment to be first to market with innovative solutions. The new fully-functional Arcserve UDP workstation uses local disk or remote share as backup targets. The ability to leverage Arcserve Recovery Point Server (RPS), which includes support for global deduplication, is also included on a trial basis.
Arcserve UDP Update 2: Introduces key new features to protect business-critical applications and hypervisors. This update focuses on granular recovery capabilities for key Windows-based applications such as Microsoft Exchange, Active Directory, SharePoint and Oracle. It also adds capabilities for Hyper-V and VMware infrastructures and more than 50 management and usability enhancements.
Early UDP Success
After a very successful launch of its unified architecture solution in May 2014, and becoming an independent company early August, Arcserve builds upon an aggressive growth strategy and accelerated technology horizons. "In just 5 months we have disrupted the data protection market by releasing a modern unified data protection solution that has been adopted by nearly 5,000 customers. With today's announcement of our free workstation, enhancements to UDP and the exciting news that we will expand our product line into the appliance market, Arcserve is continuing to uniquely and quickly help customers reduce complexity and mitigate rising costs without sacrificing functionality," said Mike Crest, CEO, Arcserve.
Arcserve UDP customer Comms-care is a leading strategic services partner to the IT channel, supporting over 700 channel partners across the UK and Ireland. "With our customers' total data protection requirements running into petabytes, we needed a solution that is highly effective and simple to manage. Arcserve UDP was by far the most flexible and cost effective solution," said Darren Briscoe, technical director, Comms-care.
"Organizations must easily and efficiently keep up with rapid data growth and manage a combined physical and virtual infrastructure, but specialized data protection 'point' solutions are often too limited in scope, and large enterprise solutions can be too unwieldy for many similar businesses. We are particularly impressed by Arcserve UDP's centralized control and task planning, its resource-saving deduplication and compression, and its overall performance – all packaged in a solution that is really unique to the market," said David Fartouk, founder and CTO, Trust-IT Solutions.
Availability
Arcserve UDP Update 2 and the workstation edition will be available late November 2014.
Follow Arcserve

About Arcserve
Arcserve is a leading provider of data protection and recovery software that provides organizations with the assurance that they can recover their data and applications when needed. Founded in 1990, Arcserve provides a comprehensive solution for virtual and physical environments, on premise or in the cloud, backed by unsurpassed support and expertise. The new unified architecture, Arcserve Unified Data Protection (UDP), drives a full range of highly efficient and integrated data protection capabilities through a simple, web-based user console. Arcserve has an active customer base of 43,000 end users in more than 50 countries. The company partners with over 7,500 distributors, resellers and service providers around the world. Arcserve is headquartered in Minneapolis, Minnesota with offices around the world. Visit http://www.arcserve.com.