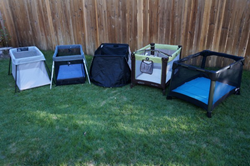 The right travel crib can give both you and your baby a comfortable sleep experience no matter where life takes you.
Cheyenne, Wyoming (PRWEB) November 04, 2014
Baby product review site BabyGearLab.com has released the results of their 2014 best travel crib review. After a period of extensive, hands-on testing, five portable cribs were rated side-by-side on the following features: weight and size, ease of use, comfort, safety and quality. The review, led by Pediatrician, Dr. Juliet Spurrier, ran its course over several months, and produced one stand-out winner: the Baby Bjorn Travel Crib Light. You can read the complete review write-up over at BabyGearLab.com.
More on the Award Winner:
The Baby Bjorn Travel Crib Light won the Editors' Choice award in the travel crib category. "The Baby Bjorn Light stood out for its ease of use and close attention to health and safety standards," states Dr. Juliet Spurrier, BabyGearLab founder. "Not only do we put a high emphasis in searching out products that are practical and easy for parents to use, but we also place a lot of value in those that are free of potentially harmful substances, such as flame retardants. The Bjorn, with its OEKO-TEX certified materials and travel-friendly design, really stood out among the competitors in our tests."
Within their review, BabyGearLab.com has also included a section to help guide parents through the process of choosing the best travel crib for their family. Designed to spark questions concerning intended use and important safety issues they might not have otherwise been aware of, the experienced-based advice will be of great value to many new parents entering the world of baby gear for the first time.
BabyGearLab's extensive testing process looks at products in an extremely critical manner, testing each head-to-head with competitors. Using the products this way, in real world settings, allows reviewers to see a clear picture of what works and what doesn't in any particular product category. In the case of travel cribs, they did just that: traveled with them. They were lugged through airports and hotels and stuffed into the back of minivans for road trips. This use and abuse left tell-tale signs of which cribs would stand the test of time and actually be beneficial to the families using them.
Founded in 2012 by board-certified pediatrician Dr. Juliet Spurrier, BabyGearLab.com is quickly progressing towards being one of the most in-depth baby product review sites in the world. Dr. Spurrier's passion to "test to find the best" was sparked by her own frustrating experience of hunting for baby gear during her first pregnancy. She hopes that BabyGearLab's detailed reviews, which emphasize performance, quality and current health and safety issues, will be a helpful guide for new parents for many years to come.