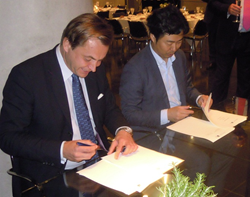 "It is with great pleasure that we announce the merger of Globalscope and Asia M&A Group. Globalscope now includes 44 firms in 38 countries." Michael Mortiz - Globalscope President.
Dallas, TX (PRWEB) November 05, 2014
At the recent semi-annual conference in Athens, the members of the Globalscope network voted unanimously in favor of a merger with Asia M&A Group. The merger adds 9 key firms in Asia, and boosts the total Globalscope roster to 44 firms in 38 countries. The firms joining Globalscope from Asia M&A Group include:
RCS Advisors (India) Pvt. Ltd. – Pune, India
a'XYKno Capital Services Ltd. – Mumbai, India
Naxel iPartners – Jakarta, Indonesia
Kaede Financial Advisory Inc. – Tokyo, Japan
H-Partners – Seoul, Korea
Stirling Coleman – Singapore
Nexus Group – Hanoi, Vietnam
Auxesia Holdings – Ho Chi Minh City, Vietnam
MBMG Corporate Solutions Co. Ltd. – Bangkok, Thailand
Martinj Peters, Globalscope Board Member]Globalscope board member and head of expansion for Globalscope commented, "Our focus for the last 12 months has been to recruit quality M&A firms to join Globalscope. After meeting with several networks to explore the possibility of merging with a like-minded, highly focussed and active group of M&A advisors who share the same values and drive, I am delighted Asia M&A Group has agreed to join forces with Globalscope Partners."
Josh Park, Managing Director of Asia M&A Group, and board member of Globalscope, said, "We immediately recognised the numerous synergies between both networks; our like-minded philosophy, quality of service and innovative approach to meet client's needs. The merger with Globalscope perfectly complements our existing network and extends our international M&A capability."
Michael Moritz, President Globalscope Partners], further commented, "It is with great pleasure that we announce the merger of Globalscope and Asia M&A Group. Globalscope now has 44 firms in 38 countries, and a significant footprint in every major global business hub. Globalscope is the go-to international M&A network for mid-market domestic and international M&A transactions."
Please visit http://www.globalscopepartners.com/members for a full list of Globalscope's members and locations.
For Globalscope enquiries, please contact
Michael Moritz
President
Valentinskamp 24
D-20354
Hamburg
Germany
T: +49 (40) 300 836-0
E: michael(dot)moritz(at)catcap(dot)de
For press enquiries, please contact
Anna Edwards
Administrator
T: +44 (0) 20 8133 8023
E: anna(dot)edwards(at)globalscopepartners(dot)com