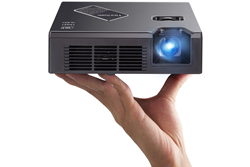 The palm-sized projectors deliver the best performance and value where portability and performance are both required.
Brea, CA (PRWEB) November 05, 2014
ViewSonic Corp., a leading global provider of visual solution products, announces their latest solid state LED-based, DLP® projectors, the PLED-W600 and PLED-W800, are now shipping. These projectors are lightweight, bright, and come with an integrated MHL-enabled HDMI input allowing users to project directly from compatible mobile devices, as well as from wireless HDMI dongles such as Google's Chromecast™ device. The palm-sized projectors deliver the best performance and value for business travelers, educators, and home entertainment where portability and performance are both required.
With both projectors weighing just less than two pounds; the PLED-W600 has a brightness of up to 600 ANSI lumens while the PLED-W800 has a brightness of up to 800 ANSI lumens providing superior brightness in an ultra-light form. The two projectors utilize the latest in solid state LED technology for more than 30,000 hours of operation time for a reliable visual experience. The projectors also feature WXGA resolution compatible with HD 1080p/i & 720p content, contrast levels of 120,000:1, and SuperColor™ technology for true-to-life images. Both projectors have 2X digital zoom and automatically adjust video source content to match 4:3, 16:9 or 16:10 viewing ratios for the perfect picture. The projectors feature the ViewSonic SonicMode sound system that provides three unique sound quality modes including Speech Mode for presentations, Entertainment Mode for gaming and videos, and Standard Mode for general all-purpose use. The PLED-600 integrates a single 2W speaker, while the PLED-W800 integrates two 2W speakers.
"From on-the-go business travelers and busy educators to home entertainment enthusiasts, streaming content from mobile devices to larger screens has never been easier or more affordable," said Jeffrey Hsieh, senior manager of product management at ViewSonic Corp. "Streaming content from smartphones, laptops, tablets, gaming consoles, and digital cameras, can be done with the user's choice of wireless connectivity options for a flexible on-the-go visual solution."
For additional connectivity, the PLED-W800 also features an SD card slot, USB reader port, and optional WiFi and Miracast compatibility for content streaming and wireless presentation options.
The PLED-W600 and PLED-W800 feature LED technology that is both mercury-free and lamp-free, offering a greener, maintenance-free projector solution. Through its LED light source, the projector provides a compact, yet vibrant visual display with a long operating life that helps lower the total cost of ownership.
The PLED-W600 and PLED-W800 projectors will be available in November 2014. The PLED-W600 will be available at an MSRP of $778.00(USD) and the PLED-W800 will be available at an MSRP of $920.00(USD).
To find more information about ViewSonic's award-winning projectors, go to http://www.viewsonic.com/us/projectors.html. For more news and information about ViewSonic, visit ViewSonic.com or follow on Facebook, YouTube and Twitter.
About ViewSonic
Founded in California in 1987, ViewSonic is a world leader and pioneer in desktop display technology. As an innovator and visionary, ViewSonic keeps the world connected with a diverse portfolio of display solutions, including smart displays, projectors, desktop displays, digital signage and touch devices. Continuing our heritage as a desktop technology leader, ViewSonic delivers the latest desktop virtualization and cloud computing products that change the way we compute, communicate and connect. To find out more about our products, visit ViewSonic.com.
ViewSonic's Finch Club offers resellers an opportunity to benefit from specialized product training and discounts. To sign up, please visit FinchClub.com.
# # #
This news release contains forward-looking statements that reflect the Company's expectations with regard to future events. Actual events could differ significantly from those anticipated in this document. Trademark footnote: All corporate names and trademarks are the property of their respective companies.