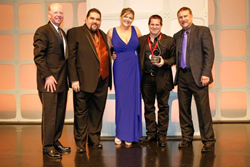 Nashville, TN (PRWEB) November 03, 2014
SESAC Celebrates Songwriters & Publishers at
2014 Nashville Music Awards:
Rob Hatch Named Songwriter of the Year
"Drink To That All Night" Named Song of the Year
Magic Mustang Music Named Publisher of the Year
SESAC, the nation's most progressive performing rights organization, kicked off CMA Week by honoring the songwriters and music publishers behind the year's most-performed Country and Americana songs at the organization's Nashville Music Awards held Sunday, November 2, at the Country Music Hall of Fame and Museum.
Rob Hatch, who topped the charts with smash hits such as "Goodnight Kiss" by Randy Houser and "I Don't Dance" recorded by Lee Brice, was named SESAC's Songwriter of the Year.
"Drink To That All Night," written by Lance Miller and published by Songs of StyleSonic Music, Melvin's Pistol Music and Melvin's Bullets Music, was named Song of the Year. The song was recorded by Jerrod Niemann who was on hand to open up the show with the infectious party anthem. Superstar artist Tim McGraw, Miller's publisher, made a surprise appearance at the awards to bestow the Song of the Year award to Miller.
Magic Mustang Music was honored as Publisher of the Year at the event.
The awards dinner featured an evening of memorable musical performances, including Niemann's rousing take on his No.1 hit "Drink To That All Night," and a stunning offering by Lee Brice and Randy Houser who wowed the crowd with acoustic versions of their respective hits, "I Don't Dance" and "Goodnight Kiss," both written by Hatch.
The festive black-tie event honored the writers and publishers behind the year's biggest hits with awards being presented to the elite group of creative talent. More than 500 songwriters, publishers and industry professionals attended the gala evening, including Lady Antebellum's Hillary Scott, Broken Bow Records recording artist Dustin Lynch, Keifer Thompson and Shawna Thompson of the CMA Award-winning duo Thompson Square.
Founded in 1930, making it the second oldest performing rights organization in the U.S., SESAC's repertory has diversified to include today's most popular music, including R&B, Hip-Hop, Dance, Classic Rock, Country hits, the best of Latin music, Contemporary Christian, Jazz, and TV and Film music from Hollywood's hottest composers. SESAC prides itself on developing individual relationships with both songwriters and publishers. SESAC's corporate headquarters in Nashville houses all of the company's divisions, from creative to licensing to administration. The company also has offices in New York, Los Angeles, Atlanta, Miami and London. For more information, please visit http://www.image.net/SESACnashvilleAwards