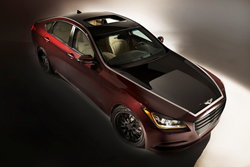 The 2015 Genesis really caught our attention, and we thought it would be the perfect vehicle to work with this year as the basis for our SEMA Show car. – Dr. Rolf Haag
Fenton, MI. (PRWEB) November 04, 2014
Webasto Thermo & Comfort North America, a global tier-one automotive and aftermarket equipment manufacturer, will reveal the results of a cooperative project with Hyundai Motor America at the 2014 SEMA Show in Las Vegas, Nevada. The new Genesis Adrenalin Series vehicle features enhanced handling characteristics, increased braking capabilities, and an aggressive, road-hugging posture that makes it a standout in any crowd.
Luxury Performance Sedan
Hyundai's confident and distinctive new 2015 Genesis is designed to dominate the luxury performance-sedan market. The Adrenalin Series vehicle is the eye-catching result of Webasto's efforts to enhance the already impressive Hyundai Genesis by partnering with other leading aftermarket suppliers.
"Hyundai's ability to synthesize a vehicle with a great balance of premium performance, technology, safety and quality reflects our own product-development mindset," Dr. Rolf Haag, President and CEO of Webasto Thermo & Comfort North America, said. "The 2015 Genesis really caught our attention, and we thought it would be the perfect vehicle to work with this year as the basis for our SEMA Show car."
Partnering with Industry Leaders
Webasto has exhibited at SEMA since the 1990s and has traditionally chosen cars and trucks that it feels complement its aftermarket sunroofs as the basis for its annual project vehicles. The company serves auto dealers throughout North America with its vast network of Authorized Installers who rely on the SEMA venue to stay current with industry styles and trends.
Webasto's Adrenalin Series will give this year's SEMA show visitors a lot to think about. The car's satin black grill and trim stand in stark contrast to its glossy Pamplona red body panels. The black custom paint job travels up the hood and across the vehicle's roof, integrating with the dark tinted glass of the Webasto Hollandia 735-II sunroof as its crown.
A full feature inbuilt sunroof, the Hollandia 735-II boasts a large tilting glass panel with UV protection on the outside. Inside, its retractable hard sunshade is clad in plush matching tan fabric that gives it a sophisticated factory look.
The lowered body stance of the Adrenalin Series vehicle sits astride four remarkable Modulare Forged, 3-piece H4 Wheels (20 x 8.5 front, 20 x 10 rear). The rubber meets the road with high-performance Toyo Proxes T1 Sport Tires (255 / 35 / 20 front, 285 / 30 / 20 rear), with stopping power delivered through slotted and drilled performance brake rotors.
As in 2013, Webasto chose to partner with Baker College of Flint – Center for Transportation Technology again this year. Baker is a national-level provider of high-quality service and restyling technicians for the automotive industry. Students enrolled in Baker College's Auto Body and Automotive Service Technology curriculum performed suspension modifications, finished the satin black grill and performed the custom paint job, including applying the Adrenalin Series badging.
Webasto's 2015 Hyundai Adrenalin Series vehicle will be on display at the Toyo Tires Treadpass area, just outside the Central Hall doors on the shortcut route between it and the South Hall. The Hyundai Adrenalin Series vehicle is just one of 15 vehicles with Webasto sunroofs at the 2014 SEMA Show.
Webasto is the world leader in the manufacturing of vehicle roof and comfort systems. The company produces millions of products each year and remains a leading innovator of sunroof, heating, cooling and ventilation systems for passenger cars, heavy-duty on- and off-road vehicles, as well as watercraft. Webasto is committed to the industries it serves and prides itself on initiating and supporting new technologies and opportunities for growth and learning among industry professionals.
To see a list of vehicle contributors and to access high-resolution images of Webasto's 2015 Hyundai Genesis Adrenalin Series vehicle, please visit:
http://www.webasto.com/us/markets-products/car/2015-hyundai-genesis-adrenalin-series/
***
About Webasto:
Webasto Thermo & Comfort North America is a subsidiary of Webasto Thermo & Comfort SE. Webasto Group based in Stockdorf near Munich has been a family-owned business ever since the company was founded in 1901. The group operates internationally at over 50 locations (over 30 of these production sites) in the divisions roof and thermo systems. Webasto is one of the top 100 automotive suppliers worldwide. The company´s core competencies encompass the development, production and sales of complete roof and convertible systems as well as heating, cooling and ventilation systems for passenger cars, commercial and special vehicles, recreational vehicles and boats. For more information please visit http://www.webasto.com
Corporate Contacts
Webasto Thermo & Comfort North America, Inc.
Amanda Kopczyk
Ph. 810-593-6070
E-Mail: amanda.kopczyk(at)webasto(dot)com
Hollandia is a registered trademarks of Webasto.
Genesis is a trademark of Hyundai Motor America. The terms Webasto's 2015 Hyundai Genesis Adrenalin Series, references to models and product designations are for reference purposes only. Neither Webasto, nor its products are sponsored or endorsed by Hyundai Motor America, and there is nothing else in the use of the Hyundai Genesis Adrenalin Series designation that should lead a reader to believe that there is an association between Webasto and Hyundai Motor America.