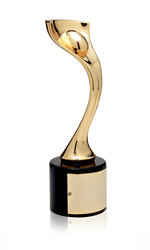 The Davey Awards choose nFusion for Best in Show: marketing effectiveness from a bold agency partnering with the boldest marketing change agents.
Austin, TX (PRWEB) November 05, 2014
Proving that effective campaigns can be saucy, the Davey Awards recently named nFusion's 2014 Cojones Awards the Best in Show for marketing effectiveness for an integrated campaign.
nFusion's Cojones Award campaign was chosen by the Academy of Interactive and Visual Arts, the judging body of the Davey Awards, as one of 11 best-in-show winners out of nearly 4,000 entries. This award follows a string of others nFusion has netted this year, including the Ad Age Small Agency of the Year (Southwest), a HOW Magazine In-House Design Award and multiple W3 Awards.
"This year's Davey Award winners truly embody the idea of small firms with big ideas. The work entered into this year's competition reflects a smart approach to creativity that highlights the capabilities and talents of small agencies worldwide," noted Linda Day, Executive Director of the Davey Awards.
The Davey Awards exclusively honor the "Davids" of creativity, the finest small firms, agencies and companies in the world. Getting its name from the story of David defeating the giant Goliath with a big idea and a small stone, the Davey Awards celebrate the same gusto and creativity exemplified by small agencies around the world.
nFusion's big idea was actually quite simple: Celebrate trailblazing marketers who have demonstrated the courage to disrupt the status quo and have discovered effective ways to engage today's digitally enabled, socially connected customer. The Cojones Awards showcases marketers who have boldly led their brands in today's rapidly changing marketing landscape.
"Celebrating marketers who are bold enough to change the game was a no-brainer for nFusion," shared nFusion CEO John Ellett. "Being recognized by the Academy of Interactive and Visual Arts for that celebration is a milestone for our team."
What began as a one-man panel at SXSW Interactive, "The 'C' in CMO Stands for Cojones," evolved into a showcase of 25 bold marketers who vied for honors in the first ever Cojones Awards. Choosing the eventual winners involved: the development of an interactive microsite; a tweet-to-vote campaign that garnered over 1,000 votes with an estimated reach of 2.4MM Twitter users; an e-book of advice for CMOs from the Cojones finalists; and media coverage across the industry.
Now the Austin-based agency is prepping for the 2015 Cojones Awards and will be announcing the winners during an awards presentation slated for Saturday March 14, 2015 during SXSWi in Austin.
To see the winning campaign visit nfusion.com/CojonesAwards2014. To download an e-book with 44 digital marketing tips from the Cojones Award winners visit cojones-awards.com.
About nFusion
nFusion is a digital agency that partners with marketing change agents to help them make an immediate and measurable impact for their organizations. nFusion architects customer experiences based on a new model, one that asserts that digital interactions and social conversations throughout the customer decision journey shape how people establish brand preference and, ultimately, make purchase decisions. These experiences include online and mobile display ads, paid search and paid social campaigns, Web, mobile-enabled and responsive sites, owned content, and social media strategy, activation and community management. Headquartered in Austin, Texas, nFusion is proud to support AMD, la Madeleine, Memorial Hermann, Samsung, SanDisk and other brands. nFusion can be found online at nfusion.com, and on LinkedIn, Facebook and Twitter.