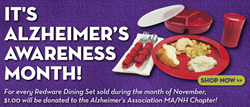 "To honor Alzheimer's Awareness Month, EasierLiving is excited to donate a portion of every Redware purchase made on the site to our local Alzheimer's Association." -Eileen Michaels, Vice President of E-Commerce
Dedham, MA (PRWEB) November 04, 2014
In honor of Alzheimer's Awareness month, EasierLiving, an online shopping site and information resource dedicated to simplified caregiving, will donate $1 to the Alzheimer's Association of Massachusetts/New Hampshire for every set of Redware Dining purchased in November.
Approximately 40 percent of the 5.2 million Americans living with Alzheimer's disease experience significant weight loss due, in part, to the inability to distinguish contrast between colors. Studies have shown that using tableware that offers a high contrast (especially bright red) to food and drinks increases food intake by 24 percent and liquid intake by 84 percent in Alzheimer's patients.
Redware dining sets include high-visibility red flatware, bowls, utensils and cups to stimulate the appetites of people living with Alzheimer's. The inner-lip and tri-divided plates reduce food spillage and the easy-to-hold fork and spoon provide an excellent grip for weakened hands. Redware offers an economical solution for caregivers – allowing their loved ones to enjoy a hassle-free dining experience, while also ensuring that critical nutrient intake happens.
"The Redware dining sets are one of the most popular products on our site – we always hear from caregivers of Alzheimer's patients that the impact it has on their loved ones' appetites is pure magic," said Eileen Michaels, vice president of e-commerce, EasierLiving. "To honor Alzheimer's Awareness Month, EasierLiving is excited to donate a portion of every Redware purchase made on the site to our local Alzheimer's Association."
To learn more and to purchase Redware dining sets visit: http://www.easierliving.com/redware-dining-sets.html
About EasierLiving
EasierLiving is a one-stop online store and information resource created to simplify life for the family caregiver. The company's products and information promote self-respect by offering a broad line of superior home healthcare products for a wide range of health conditions that empower people to remain independent and live their best possible lives. The EasierLiving social media caregiver community also provides family caregivers with an opportunity to connect to real people who face similar circumstances for resources, up-to-date information and unwavering support.