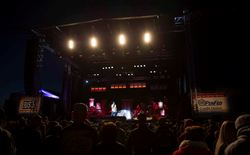 The USO was thrilled to partner with the Pentagon Federal Credit Union team and the Fort Hood MWR to bring Trace and Casey back to Texas to say "thank you" to an absolutely amazing group of Americans...," said USO Executive Vice President John Pray.
Arlington, VA (PRWEB) November 03, 2014
Twitter Pitch: @the_USO and @PenFed treat @FortHood to concert feat @TraceAdkins and @CaseyJames
What opened with a blistering performance by country music newcomer Casey James, ended with a show-stopping concert by country star Trace Adkins as the stars united to support the Fort Hood community and perform a concert there Nov. 1. The event was sponsored by the USO, Fort Hood MWR and Pentagon Federal Credit Union (PenFed), which generously donated $100,000 to help fund nearly three-hours of star-studded entertainment for troops and their families. The morale-boosting show took place at Fort Hood Stadium and helped bring camaraderie, fun and good times to Fort Hood – home to more than 41,292 soldiers and more than 69,487 family members. ***USO photo link below***
DETAILS:

The USO/Fort Hood MWR/PenFed show was attended by 2,500 soldiers and their families stationed at Fort Hood.
The concert ran from 6 to 8:30 p.m., and included an array of food vendors including Baskin Robbins, who gave away free scoops of Independence-flavored ice cream to military families. In honor of troops, they also named their newest flavor, First Class Camouflage, as November's flavor of the month and will donate $0.10 to the USO for every scoop sold on Veterans Day, 11/11.
Far from a stranger in supporting troops and military families, Adkins volunteered with the USO in 2002 and was among the first group of USO entertainers to travel to the Middle East. Over the past 12 years, the star has participated in eight USO tours and traveled to seven countries – lifting the spirits and creating moments for more than 39,700 troops and military families. Among the countries he has visited with the USO are Afghanistan, Bahrain, Germany, Iraq, Japan, Kuwait and the U.S. Just last month, Adkins performed a free, USO show for troops and military families Arts in San Antonio, Texas as part of the grand opening of the Tobin Center.
Adkins' trademark baritone has powered countless hits to the top of the charts and turned albums into Platinum plaques, selling over 10 million albums, cumulatively. The Grammy-nominated member of the Grand Ole Opry is currently out on tour performing with his six-piece band the Sarepta Gentleman's Club. The tour kicked off on June 5th and will continue into Fall 2014. Earlier this month the megastar announced he will be embarking on a 25-city Christmas Show Tour starting Nov. 14 and performing holiday classics and songs from his 2013 album of Celtic carols, 'The King's Gift.'
Going from American Idol finalist in 2010 to Top 15 on the country music charts in 2012 with his hit song "Crying on a Suitcase," country newcomer Casey James is back with his new hit single "Falling Apart." A native of Fort Worth, Texas, the singer began playing guitar at just 13-years of age and is an avid supporter of America's Armed Forces. Casey traveled to Bahrain and Djibouti in 2013, where he visited and entertained countless troops and military families.
Nicknamed "The Great Place," Fort Hood is the largest active duty armored post in the U.S. Armed Services and is home to USO Fort Hood and USO Fort Hood North – two USO centers which offer the everyday comforts of home, programs and services to troops and military families stationed locally.
Established in 1935, PenFed is one of the largest credit unions in the country serving nearly 1.3 million members. Its longstanding mission has been to provide superior financial services in a cost effective manner, while responding to members' needs. The connectedness to those who serve is a significant part of PenFed's culture. The credit union plays an active role in events like this concert and other initiatives designed to meet the needs of the troops, their families, and veterans.
The "Every Moment Counts" campaign invites Americans to join the USO and PenFed in honoring and creating moments that matter for our nation's troops and their families – like this Trace Adkins USO/Fort Hood MWR/PenFed concert at Fort Hood. For more information please visit USOmoments.org or join the conversation on Facebook or Twitter using #USOMoments.
QUOTES:
Attributed to Major General Kendall P. Cox of Fort Hood:
"USO and PenFed doing this, they understand… This concert is intended for our service members and their families. It's truly an opportunity for them to just relax, sit back and in truth, be given thanks for what they do every day. That's what this is all about. And having it here right on Fort Hood is significant because it pays recognition of the long days (and) the times away from home... It's all about taking care of the soldiers and their families."
Attributed to Trace Adkins:
"I've had a wonderful relationship with the USO for many years now. I've never done a show with them that I didn't walk away from feeling like I was better for it. And I just continue to. Whenever they call and we're able to do it, we do it..."
Attributed to Casey James:
"I hope I can brighten somebody's day with being here (at Fort Hood) playing music. I mean that's my job as a musician, as an artist, but specifically that they can kind of get out of their head for a minute and maybe escape reality for an hour, you know."
Attributed to PenFed President and CEO James R. Schenck:
"Since 2002, Fort Hood has deployed over 630,000 men and women to go into harm's way to protect our nation. This was PenFed's way of saying thank you to the service members who served and the families who support them, and to the extended community… There's been way too many deployments this last decade. And for them to spend time with their kids and with each other, we feel it's very important."
Attributed to USO Executive Vice President and Chief of Staff John Pray:
"The USO was thrilled to partner with the Pentagon Federal Credit Union team and the Fort Hood MWR to bring Trace and Casey back to Texas to say "thank you" to an absolutely amazing group of Americans – the troops and their families at Ft Hood. They have endured many challenging deployments to protect the freedoms we enjoy daily and this concert was a way to show our gratitude and let them know that we are always by their side."
MULTI-MEDIA:
USO Photos: http://bit.ly/1tPeSD2
USO Video: Coming soon…
###
About the USO
The USO lifts the spirits of America's troops and their families millions of times each year at hundreds of places worldwide. We provide a touch of home through centers at airports and military bases in the U.S. and abroad, top quality entertainment and innovative programs and services. We also provide critical support to those who need us most, including forward-deployed troops, military families, wounded warriors, troops in transition and families of the fallen. The USO is a private, non-profit organization, not a government agency. Our programs and services are made possible by the American people, support of our corporate partners and the dedication of our volunteers and staff.
In addition to individual donors and corporate sponsors, the USO is supported by President's Circle Partners: American Airlines, AT&T, BNSF Railway, Clark Construction Group, LLC, The Coca-Cola Company, Grand Canyon University, JCPenney, Jeep, Johnson & Johnson, Kroger, Northrop Grumman Corporation and TriWest Healthcare Alliance and Worldwide Strategic Partners: BAE Systems, BIC, The Boeing Company, ConAgra Foods, FedEx, Harris Teeter, Lockheed Martin, Microsoft Corporation, Procter & Gamble, TKS Telepost Kabel-Service Kaiserslautern GmbH & Co. KG and Wawa Inc. We are also supported through the United Way and Combined Federal Campaign (CFC-11381). To join us in this important mission, and to learn more about the USO, please visit uso.org.
About PenFed
Established in 1935 as the War Department Credit Union, PenFed is one of the largest credit unions in the country, serving 1.3 million members worldwide; with more than $19 billion in assets. Its long-standing mission has been to provide superior financial services in a cost effective manner, while being responsive to members' needs. PenFed offers market-leading mortgages, automobile loans, credit cards, checking, and a wide range of other financial services with its members' interests always in mind. Serving a diverse population, PenFed offers many ways to become a member; including numerous association affiliations and employee groups. PenFed is federally insured by the NCUA and is an equal housing lender. PenFed does business in accordance with the Federal Fair Housing Law, the Equal Credit Opportunity Act, and is a member of NAFCU. To learn more about PenFed, visit PenFed.org.
About Fort Hood
Fort Hood is currently home to more than 41,292 soldiers and more than 69,487 family members (16,108 on post and 53,379 off post). We have approximately 5,000 DA Civilians and more than 14,600 contractors. When you include retirees who use the post for support, the total population supported by Fort Hood is more than 388,300. Fort Hood's Land Area equals 218,823 acres or 342 square miles. It stretches as far north as Waco, Texas; east to Temple, Texas; west to Copperas Cove, Texas; and south to Georgetown, Texas.