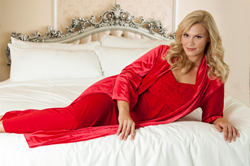 Washington, D.C. (PRWEB) November 05, 2014
Soulevant has reinvented the predictable chemise and created a garment that is versatile enough for day and night wear. No more worrying about not having a bra on. Soulevant has a custom designed, built-in wire-free bra that is shaped and formed to lift a woman up and keep her fully covered! They feature soft, comfortable fabric, and the customer can choose among a variety of solid colors or vivid prints. All of their garments are machine washable and easy to care for. They hang dry and do not need ironing. The fabric also flows nicely without clinging to the body.
This brand is also "Made in the USA," which allows them to closely monitor the production process and ultimately enables their customers to have the best construction available.
Soulevant's printed chemises are so unique; they are not just for indoors and can be worn as a sundress or poolside cover-up.
Their solid nightgowns in a variety of colors, with elegant lace-trimmed bodices, provide the same built-in support for sleeping or lounging in comfort.
Soft velvet bathrobes complement Soulevant's nightgowns and chemises for added luxury.
Retail Price: All styles retail under $125
Stores: Currently Soulevant is available for purchase on their website
More about Soulevant Lingerie
Soulevant's philosophy is to offer Support, Comfort and Style. The support is their built-in bra. For comfort, they showcase materials that are soft to the touch and comfortable to wear without the restriction of an under-wire. For style, they look for vibrant colors and prints that will make every woman feel beautiful and energized when they wear them. Soulevant also offers a wide selection of sizes, from XS up to 2X, so that women of all sizes can wear their garments.
Soulevant has a mission to lift you up, both literally and spiritually. This new collection does just that!
To learn more about Soulevant Lingerie, go to http://www.soulevant.com.
Contact:
Tosha Clemens
Tosha Cole Clemens PR Agency
(818) 427-1449
http://www.ToshaClemens.com