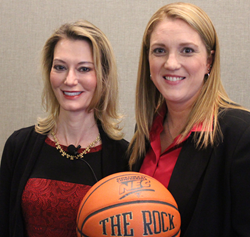 If I could tell anybody, I'd say, 'Don't do it.'
Rolling Meadows, Ill. (PRWEB) November 04, 2014
Who better to be the face of the dangers of indoor tanning than a former enthusiast – and skin cancer survivor?
Arielle Kauvar, M.D., a member of the American Society for Dermatologic Surgery, said at a recent ASDS event that she wants Lisa Pace to tell her story and help spread the message than indoor tanning can, and does, lead to skin cancer.
Pace, 37, is a women's basketball coach at LIU (Long Island University) Brooklyn and a patient of Kauvar, a New York City dermatologist. Since 2000, Pace has had more than 70 basal cell carcinomas and five malignant melanomas removed from her skin.
"If I could tell anybody, I'd say, 'Don't do it,'" Pace said, relating her skin cancer history at the event.
She has no family history of skin cancer. But during college and graduate school, she bought and used – sometimes more than once a week – passes to indoor tanning salons. The visits added color to and evened out the pale complexion that accompanies her reddish hair as well as disguised her freckles.
"Getting a tan made me feel like I looked prettier," said Pace. "In reality, I was damaging my skin. Spots began to show up that weren't there before."
"She's not alone," said Kauvar, founding director of New York Laser & Skin Care. "Look on any beach or inside any tanning salon."
Kauvar said the data also tell the story:

More than 5 million non-malignant skin cancers are diagnosed each year, affecting 2 million people.
One in five Americans will develop skin cancer in his or her lifetime; one in 50 will develop the more deadly melanoma.
Each year, more than 63,000 cases of melanoma are diagnosed resulting in nearly 9,000 deaths.
The incidence of non-melanoma skin cancers are increasing in both males and females younger than 40.
From 2000 to 2009, melanoma rates rose 800 percent in females and 400 percent in males.
Melanoma is the most common form of cancer in those ages 25 to 29.
Kauvar is blunt about the cause: excessive exposure to ultraviolet rays and to indoor tanning.
"Approximately 30 million people each year use an indoor tanning booth or salon," she said. "It's addictive behavior, just like smoking."
"Seventy percent of indoor tanners are white females, ages 16 to 19, which presumably relates to the torso being the most common location of melanoma in females 15 to 20 years old," Kauvar said.
Pace credits her mother with saving her health and life. Upon getting her first "real job", Pace's mother insisted Pace visit several doctors, including a dermatologist, to get a baseline picture of her health. The dermatologist noted some growths on Pace's legs and biopsied them, just to be certain they were non-cancerous.
While Pace was recruiting basketball players in Las Vegas, she got a call asking her to come back in because the growths were cancerous. "Even that didn't scare me," Pace said. "I figured they'd scrape it off, put a bandage on it and I'd be fine."
Finding out the lesions were melanomas also didn't scare her. She said, "I just wasn't educated."
Later, she had a few basal cell carcinomas removed, and then the real wake-up call came – in the form of having a "chunk taken out of my cheek. I realized, 'This is not a joke. This is real life. I've got to help educate people.'"
Kauvar notes the success of the longtime message linking smoking to lung cancer. "I'd like to see a similar message for indoor tanning and skin cancer. The number of skin cancers from indoor tanning is greater than the number of lung cancers from smoking. The link between tanning and cancer is very clear," she said.
Though the link is clearer, sunscreen use is declining, she said. Data from the Youth Risk Behavior Surveillance System reports a decline in use from 68 percent in 2001 to 50 percent in 2011.
Progress in making people aware of the dangers of tanning beds has been made, Kauvar said. In 2009, the World Health Organization declared tanning bed lights a carcinogen. In May, the Food and Drug Administration reclassified tanning lights from low to moderate risk and mandated that sunlamp products have a visible label explicitly stating the lamp should not be used on those under age 18. In June, acting U.S. Surgeon General Boris Lushniak, M.D., announced a call to action to prevent skin cancer.
"The acting surgeon general calls skin cancer a public health crisis, and it is," said Kauvar.
"Public policy can play a big part, as the surgeon general points out. We can increase opportunities for shade outdoors; we can promote policies to prevent skin cancer; we can reduce indoor tanning," Kauvar said. Forty-one states plus the District of Columbia have passed legislation restricting indoor tanning and since 2011, 11 states have passed bans on indoor tanning use by minors, she said.
The media can communicate that indoor tanning is dangerous and people need to protect themselves from the sun, said Kauvar. "Like the tobacco industry, the Indoor Tanning Association minimizes the health risks, hypes the health benefits of their products and promotes them as socially desirable," she said. "We need to change that."
Pace, who works with college students, understands that young people want to fit in and that what they think of as a "healthy tan" is part of that desire. She wants to use her own experiences to help publicize tanning dangers. "I want people to understand, you're beautiful to the people who matter most, without a tan. That tan isn't going to make you who you are. That's on the inside."
About ASDS
The American Society for Dermatologic Surgery (ASDS) is the largest specialty organization exclusively representing dermatologic surgeons who have unique training and experience to treat the health, function and beauty of your skin. ASDS members are pioneers in the field. Many are involved in the clinical studies that bring popular treatments to revitalize skin and fill and diminish wrinkles to the forefront. Their work has helped create and enhance many of the devices that remove blemishes, hair and fat, and tighten skin. Dermatologic surgeons also are experts in skin cancer prevention, detection and treatment. As the incidence of skin cancer rises, dermatologic surgeons are committed to taking steps to minimize the life-threatening effects of this disease. For more information, visit asds.net.
Website: http://www.asds.net
Follow ASDS on Twitter: http://www.twitter.com/SkinCancerinfo
Become a fan of ASDS on Facebook: http://www.facebook.com/SkinCancerAwareness
Locate a dermatologic surgeon in your area: http://www.asds.net/findadermatologist.aspx
Contact:
Beth Bales, Communications Manager
American Society for Dermatologic Surgery
847-956-9143