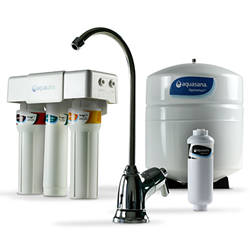 Many studies show fluoride is harmful...Our new system maintains all the good parts while taking out the bad.
Austin, TX (PRWEB) November 13, 2014
Aquasana introduces its long-awaited OptimH20, a reverse osmosis filtration system with re-mineralizer, to remove fluoride and other harmful contaminants from drinking water. OptimH2O is the first reverse osmosis system of its kind to pair the powerful filtration of reverse osmosis with the high performance selective carbon filtration plus re-mineralization. This new, easy-installation filtration system delivers clean, healthy, fluoride-free drinking water without stripping water of its healthy minerals.
Traditional reverse osmosis systems remove naturally occurring trace minerals. The Aquasana Reverse Osmosis System with Re-mineralizer removes 96% of fluoride as well as 71 additional contaminants including chlorine and chloramines (chlorine + ammonia disinfectant), pharmaceuticals, arsenic, cadmium, lead, mercury, herbicides, pesticides and asbestos.
"Many studies show fluoride is harmful, and we get requests daily from customers who want an effective removal solution" said Todd Bartee, Chief Executive Officer for Aquasana and environmental engineer. Bartee went on to say, "Naturally occurring trace minerals like calcium, potassium, and magnesium maintain the pH balance of water and add nutrition and taste to water. Our new system maintains all the good parts while taking out the bad."
A Harvard study links fluoride is detrimental to brain development, can lead to autism spectrum disorders and other developmental problems.
"This is a silent epidemic," said Dr. Frank Lipman, an MD specializing in integrative and functional medicine and the founder and director of Eleven-Eleven Wellness Center in New York City. "Most healthcare organizations are turning a blind eye to this issue, but I believe ongoing exposure to chemicals, like fluoride, in our water cause significant health problems."
With the Aquasana Reverse Osmosis Filtration System, you get:

More contaminant removal, longer lasting filters, and easy installation
All components are BPA free
Re-mineralizer for great tasting, healthy, pH balanced drinking water
The Aquasana Reverse Osmosis Filtration System is sold online at Aquasana.com.
About Aquasana
Based in Austin, Texas, Aquasana is leading the charge to make high performance water filtration available in every home. Your body is made up of 70% water. Aquasana wants that 70% to be the best water possible. From whole-home filtration to drinking water systems and shower filters, Aquasana has your back and every other part of you covered. Aquasana's leading products remove over 60 harmful contaminants from water including chlorine, chloramines, herbicides, pesticides, industrial solvents, lead, and mercury. Aquasana water filters are engineered to preserve the healthy minerals in water, which include calcium, magnesium and potassium resulting in healthy, great-tasting water. For more information visit http://www.aquasana.com.