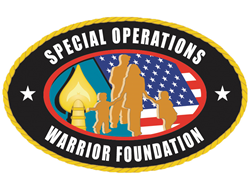 Tampa, FL (PRWEB) November 04, 2014
Next Tuesday, hundreds of people from coast to coast will sit in front of a blank canvas, pick up a brush, dip it into a palette of colors and create a work of art to support America's Special Operations Forces troops and their families.
On Nov. 11, Veteran's Day, participants at 102 Painting with a Twist studios will paint "Amber Waves of Grain" under the tutelage of an instructor, while sipping wine and enjoying snacks. At least 50% of each studio's proceeds will be donated to the SOWF; while some franchise owners will donate 100%.
Cathy Deano and Renee Maloney are the founders of Painting with a Twist, which is headquartered in Mandeville, LA. They selected the SOWF to benefit from the company's first-ever national fundraising effort, after researching organizations that aid servicemen and women and their families.
During the PWAT annual meeting in August, the women suggested that the approximately 180 studios take part in a nationwide Painting with a Purpose fundraising effort, which they normally hold each month, to benefit the nonprofit Special Operations Warrior Foundation – and many franchise owners immediately agreed, Maloney said.
"We are proud to host this Painting with a Purpose event to give back to those who have given their lives in service to our country," Deano said.
"Through the Special Operations Warrior Foundation, we have the opportunity to collectively honor our troops and their families on Veteran's Day."
Created in 1980 and based in Tampa, the Special Operations Warrior Foundation is one of the nation's top-rated charities and offers three programs:

College scholarships for the surviving children of U.S. Special Operations personnel from the Army, Navy, Air Force and Marine Corps;
Wounded Special Operations Forces support, including immediate financial stipends of $3,000; and
Family services, including educational and family counseling and advocacy support.
"We are honored that Painting with a Twist has chosen the Special Operations Warrior Foundation to benefit from its first national fundraising effort," said retired Navy Vice Admiral and SEAL Joe Maguire, president and CEO of the foundation.
"Veteran's Day is a time when our nation reflects upon, and honors, the contributions and sacrifices made by our military men and women, and that includes our Special Operations Forces warriors," Maguire said.
About Painting with a Twist
Painting with a Twist is the leading paint-and-sip franchise with more than 180 franchises in 27 states. Founded in 2007 by Cathy Deano and Renee Maloney, Painting with a Twist began franchising in 2009 and provides customers with paint, a canvas and brushes that lead to a fun evening with friends and a finished piece of art. The company maintains a strong focus on giving back to the local community, and by the end of 2014, Painting with a Twist will have donated more than $1 million through their charity arm, Painting with a Purpose.