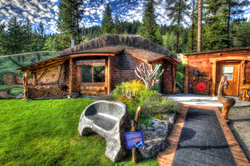 The World's Only Hobbit Accomodations
(PRWEB) November 05, 2014
The Shire of Montana is announcing a special for those who have always wanted to stay in a real Hobbit House. Their special discount will save you close to $300 on a stay that is booked this year. The Shire opens its doors for a new season on May 1, 2015 and is already taking reservations.
Based on the book written by JRR Tolkien, the Hobbit House incorporates all of the magic and fantasy on a 20 acre parcel including the houses of Bilbo and Frodo Baggins, the River Shire, a troll house and of course a "Comfort Cozy" underground hobbit hole decorated in five star format.
Located in Whitepine Valley near Trout Creek, Montana, the Shire is only a 3 hour drive from either Spokane, Washington or Missoula, Montana and is close to Glacier National Park so you could make a round trip visit for next year's vacation.
The Hobbit House has been featured on MTV, HGTV and has also been written up in the New York Times. To book your Hobbit adventure, log onto http://www.theshireofmontana.com or call for reservations at (406) 827-7200.