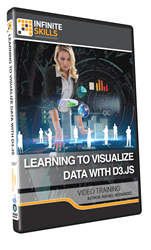 Learn to Visualize Data with D3.js at your own speed
(PRWEB) November 04, 2014
Software training firm Infinite Skills Inc. last week released its "Learning to Visualize Data with D3.js Tutorial," a course designed for new and experienced developers, particularly those with a basic understanding of JavaScript, that teaches the essentials of using the D3.js library to create interactive data visualizations.
The D3.js library, or D3 for data-driven documents, is a JavaScript library that allows basic manipulation of a document object model (DOM) in HTML, creating the interactive graphical forms that run on web browsers. The library is a tool for data visualization in W3C compliance standards, and works with the most widely implemented languages, JavaScript, HTML5, and CSS3.
Infinite Skills' "Learning to Visualize Data with D3.js Tutorial," teaches the essentials of using the library through the creation of a visualization for a fictional business.
Learning to Visualize Data with D3.js Tutorial - Streaming
Course author Rafael Hernandez is a composer and a teacher as well as a developer. He is currently Interim Associate Dean and associate professor at California State University in East Bay. He is a professional developer with proficiencies in many languages including HTML, CSS, and JavaScript.
Following a review of JavaScript basics, Hernandez teaches how to create simple and complex bar charts and make them interactive by using D3 to add features such as a sort button, animation, and other mouse interactions
He then covers line and scatter-plot charts, explaining how to work with dates, format a linear time scale, as well as plot and stylize data, add data detail, and work with external data.
"D3 is most commonly used with data in order to create interactive data visualizations; these data visualizations appear all over the web. It's safe to say D3 is the dominant library for creating most of the graphics you interact with on the web," says Hernandez.
"Our primary focus is to look at the methods, functions and features of D3 that will get you started."
Free demo videos and a full list of course contents can be found on the "Learning to Visualize Data with D3.js Tutorial" page of the Infinite Skills website:
http://www.infiniteskills.com/training/learning-to-visualize-data-with-d3-javascript.html
Infinite Skills offers its "Learning to Visualize Data with D3.js Training" course either as a DVD or a direct download from the company website at a retail price of $49.95. Though the compatibility of programs varies, all Infinite Skills titles and formats are compatible with both Mac and Windows operating systems, and shipping is available around the globe. Additionally, Infinite Skills tutorials are supported by project files which correspond to examples in the videos.
About Infinite Skills Inc.
A leader in the field of software training, Infinite Skills designs its courses on a task-oriented model, teaching complex skills by providing hands-on examples and guiding users as they carry out essential functions. Infinite Skills offers a wide range of software titles available as DVDs, digital downloads, and in iPad editions. Infinite Skills now offers a subscription service, providing access to all its training content for a monthly fee, keeping with company's aim of delivering professional training to customers anywhere they want to learn.