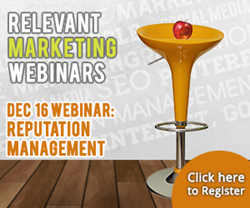 Atlanta, GA (PRWEB) November 05, 2014
Registration is open now for "Managing Your Online Reputation," the final webinar in a series of six webinars from mRELEVANCE, LLC in 2014. Marketing RELEVANCE Managing Partners Mitch Levinson and Carol Morgan will present "Managing Your Online Reputation" on Tuesday, December 16 from 2 to 3 p.m. ET.
The majority of consumers trust online reviews and endorsements from their friends. In fact, they rely on the Internet for recommendations or confirmations before they make purchasing decisions. Managing your reputation online is critical for businesses of all sizes.
In this free webinar, participants will learn from Levinson, MBA, MIRM, CAPS, CPS, CGP and Morgan, MIRM, CAPS, CSP, the tools, tips and techniques for monitoring, protecting and defending brand reputations online. Levinson and Morgan will share the strategies and techniques they have practiced over the years to monitor and improve online reputation. Webinar participants will learn why they should care about online brand and reputation management and how to proactively manage their company's reputation through social media and other online methods. This seminar covers how search engine optimization impacts reputation management; being proactive vs. reactive; the importance of and how to get positive testimonials and reviews; the best review sites for building a strong online reputation and how to handle negative online reviews. This seminar includes the Dos and Don'ts of online reputation management with real-life examples for businesses to use as they promote their brands online.
Relevant Marketing Webinars are free and open to business owners and marketing professionals who are looking to gain knowledge on the hottest topics, issues and trends to enhance their marketing efforts. During each webinar, mRELEVANCE's expert marketing professionals will discuss a different marketing topic to improve the effectiveness of a business' marketing program.
Register now for the December 16 Webinar: "Managing Your Online Reputation" at http://www.MarketingRELEVANCE.com/webinars.
About Marketing RELEVANCE: mRELEVANCE, LLC creates relevant marketing and communications that reach audiences with focused and strategic messages. Through technology and creative content, messages are delivered to target markets to encourage customer action and interaction.
With offices in Atlanta and Chicago, mRELEVANCE can connect your company with buyers and build relevant relationships nationwide. For more information, visit http://www.mRELEVANCE.com, Like us on Facebook at http://www.Facebook.com/mRELEVANCE, Follow us on Twitter at @mRELEVANCE or call 770-383-3360 or 847-259-7312.