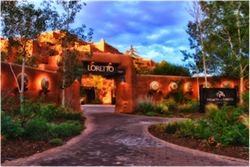 We are thrilled to have these important Native American guests to the Inn and Spa in order to honor Native American Heritage Month. --Tom McCann, General Manager
Santa Fe, New Mexico (PRWEB) November 03, 2014
Inspired by the 150th Anniversary of the historic gift of Canes to the 19 New Mexico Pueblos by President Abraham Lincoln, downtown Santa Fe's award winning Inn and Spa at Loretto, A Destination Hotel, is proud to announce it will honor the designated Native American Heritage Month this November with a special offering of experiences designed to celebrate the Native American cultures of New Mexico and beyond, including the "Native Reflections" vacation package and the "Native American Heritage Dinner and Art Show," featuring an exploration of food, art and wine with honored Native artists, actors and guest chef.
The Native Reflections Vacation Package, which starts at $209 per night, will include*:

Two night accommodations at the Inn and Spa at Loretto, an architectural recreation of the historic Taos Pueblo, the oldest continually inhabited dwelling in the U.S.
Two tickets to the Museum of Indian Arts and Culture's newest exhibit, Turquoise, Water, Sky: The Stone and Its Meaning, highlighting the museum's extensive collection of Southwestern turquoise jewelry.
$100 resort credit for use with spa services or dining. The Inn suggests the "Native Reflections Ritual" a signature Santa Fe spa treatment.
The Inn and Spa at Loretto will partner with Santa Fe's Institute of American Indian Arts (IAIA) to host an art show and live paint, hosted by acclaimed Comanche artist Nocona Burgess at 5:00 pm until 8:00 pm on November 13, 2014. On the same date, starting at 6:00 pm until 9:00 pm, a five course prix fixe dinner will be served in Loretto's restaurant, Luminaria, prepared by executive chef Marc Quinones and Navajo/Dine guest chef Freddie Bitsoie. The dinner features a partnership with VARA (which translates to "canes") Wines, an international brand family of Spanish and American wines celebrating Native American and New World history. Tickets to the dinner are $90 per person and include wine pairings. Additionally, the family-style seating arrangement will included honored guests:
Conroy Chino, former news anchor and tribal advocate for Acoma Pueblo. Conroy wrote the treatment for the Grammy award-winning documentary film "Canes of Power."
Wes Studi (tentative), award-winning Cherokee actor and producer, and spokesperson for the Santa Fe-based Indigenous Language Institute. Wes narrated "Canes of Power."
Nocona Burgess, acclaimed Comanche artist and academic, as well as alumnus and instructor at IAIA.
"We are dedicated to honoring our community through authentic experiential offerings that connect guests with Santa Fe's rich culture and history." Tom McCann, General Manager
The Inn and Spa at Loretto will also offer VARA wines, as well as a Native American inspired dish in Luminaria and the Living Room for the entire month of November; a portion of the proceeds from the sale of the dish will benefit Silver Bullet Productions (SBP), a unique non-profit educational film company that works with tribal communities. Winner of four Regional Emmy's for their documentary film "Canes of Power," their mission is to encourage educational achievement through educationally and culturally relevant film projects to empower students, enhance academic and economic opportunities, and preserve community culture and heritage. The Inn and Spa at Loretto is honored to have a long history of partnership with SBP, an organization whose mission of community empowerment is in alignment with their own.
*Offer is based on availability, other restrictions may apply. Must book 72-hours prior to arrival. Offer is valid on new reservations only for stays November 1, 2014 – March 31, 2015. Not valid for groups. Based on double occupancy. Offer does not include tax. Book online with code NATIVE at http://www.innatloretto.com or call 866-582-1646