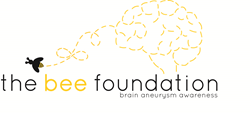 PHILADELPHIA, Pa. (PRWEB) November 05, 2014
The Bee Foundation, a recently launched non-profit organization based in Philadelphia, whose mission is to reduce the number of deaths caused by brain aneurysms through research, awareness and education, raised more than $100,000 at its inaugural gala on Sept. 20 in Philadelphia. Funds earmarked directly for brain aneurysm research will represent almost 20% of the total dollars raised nationally– a highly significant amount in an area of medicine that is underfunded as a whole.
A capacity crowd of more than 200 attended the inaugural Honey Bash Gala at the Hotel Monaco. Live and online auctions, including a private dinner donated by James Beard award-winning chef Jamie Bissonnette, contributed to the funds raised.
An estimated 30,000 people will experience a ruptured cerebral aneurysm in the next year. Of these, 40 to 50 percent will survive, with only 20 percent of these patients having no permanent damage.*
"We were thrilled by the level of support and enthusiasm reflected at our inaugural Honey Bash event," said Co-Founder and Executive Director Christine Doherty Kondra, who, along with her sister, Erin Doherty Kreszl, launched the organization to honor their cousin, Jennifer Sedney. Sedney died on December 25, 2013, at the age of 27, from a ruptured brain aneurysm.
"This success will enable us to begin making significant impacts on research efforts," said Kondra, who stated that research grants and fellowships will be made by The Bee Foundation to Philadelphia area and national medical institutions. The Foundation's Board of Directors, including its Chief Medical Officer, Dr. Patricia Henwood, is working closely with medical institutions to identify and evaluate these research opportunities. Henwood, Assistant Professor of Emergency Medicine at the Hospital of the University of Pennsylvania, is currently serving in Liberia in the fight against Ebola.
Dr. Michael Chen, Associate Professor of Neurology, Neurosurgery and Radiology at Rush University Medical Center in Chicago, delivered the keynote presentation at the Gala. Chen's presentation focused on current research targets and the critical need for private research funding that is focused on brain aneurysm prevention.
"I was honored to be able to share with this audience some of the medical background and current thinking on brain aneurysms," said Chen. "By partnering with The Bee Foundation's highly energetic and dedicated board, as well as seeing the vast support for this initiative, we have an incredible opportunity to push forward with much-needed research into the condition."
Dr. Monisha Kumar, a neurointensivist and researcher at the Hospital of the University of Pennsylvania's Neurocritical Care Unit, also attended the Gala. "I am proud to serve with The Bee Foundation not only to advance the understanding but also to decrease the mortality of this devastating disease," Dr. Kumar said.
To find out more about brain aneurysms and the work of The Bee Foundation, as well as how to support the foundation with a tax deductible contribution, visit the Foundation's website or contact info(at)thebeefoundation(dot)org.
*The Cleveland Clinic Neurological Institute
About The Bee Foundation
The Bee Foundation is a 501(c)(3) non-profit organization whose mission is to reduce the number of deaths caused by brain aneurysms through awareness, research and education. The organization is dedicated to raising funds to advance benchmark diagnostic research to identify brain aneurysms before they rupture. Information on the Foundation can be found at http://www.thebeefoundation.org, or on the Foundation's Facebook page. Also visit us on Twitter and Instagram.