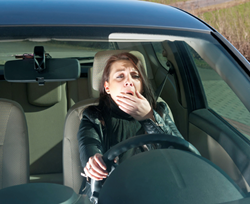 LINCOLN, R.I. (PRWEB) November 04, 2014
Drowsy driving is more dangerous – and more common – than most of us may think. In fact, the National Sleep Foundation found that 60 percent of adult drivers admitted to driving while feeling tired, and 37 percent actually admitted to falling asleep at the wheel.
The National Highway Traffic Safety Administration estimates that driving while fatigued results in 100,000 police-reported crashes each year. As a result, approximately 1,550 deaths, 71,000 injuries and $12.5 billion in monetary losses occur each year.
To make the public more aware, the National Sleep Foundation has declared this week (Sunday, Nov. 2, through Saturday, Nov. 8) as Drowsy Driving Prevention Week. Amica Insurance is sharing five warning signs that you may be too tired to drive safely:

Driving during normal sleeping hours
Trouble remembering the last few miles driven
Missing familiar exits or traffic signs
Frequent blinking or heavy eyelids
Constant yawning or eye rubbing
The National Sleep Foundation also recommends these countermeasures to prevent a sleep-related crash:
Bring someone along for the ride. Making conversation and taking turns behind the wheel can help maintain alertness.
Drink a caffeinated beverage. This will have less of an effect on those who consume caffeine regularly, but for those who don't, you can expect a surge in energy after approximately 30 minutes.
Pull over into a safe area and take short nap. A nap that's less than 20 minutes can improve short-term alertness and performance better than longer naps, as they tend to leave you feeling groggy.
About Amica Insurance
Amica Mutual Insurance Co., the nation's oldest mutual insurer of automobiles, was founded in 1907. The company, based in Lincoln, Rhode Island, is a national writer of auto, home, marine and umbrella insurance. Life coverage is available through Amica Life Insurance Company, a wholly owned subsidiary. Amica employs more than 3,300 people in 43 offices across the country. For more information, visit Amica.com.
CONTACT: Vince Burks, Corporate Communications, 50 Amica Way, Lincoln, RI 02865-1155, 800-652-6422, ext. 24563
Twitter: Amica
Facebook: Amica Mutual Insurance Co.