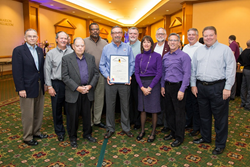 I am very humbled and honored to be recognized in this way. But it is important to note that without the opportunity to work with great staff and volunteers, the recognition would not be possible.
Indianapolis, IN (PRWEB) November 04, 2014
Indiana CPA Society (INCPAS) President & CEO Gary Bolinger, CAE, was honored with the prestigious Sagamore of the Wabash designation from Gov. Mike Pence, which is one of the highest distinctions in Indiana awarded by the governor. Sen. Carlin Yoder (R-Middlebury) made the announcement during the INCPAS Leadership Cabinet and Emerging Leaders Alliance meeting on October 30, 2014.
"Gary's commitment to excellence and service has benefited all Hoosiers because of the 8,000 members of the Indiana CPA Society serving in every corner of the state," said INCPAS chairman Kent Williams, CPA, GGMA, a business professor at Indiana Wesleyan University in Marion, Ind. "One component of the INCPAS mission is to protect the public interest. When I think of the essence of this award and Gary's commitment to protecting the public interest, it is evident that he is deserving of this honor."
Bolinger began his career with INCPAS in 1984 as the field activities director, and recently celebrated 30 years with the organization. His initial duties with the Society included chapter management, relations with educators, legislative relations and the Educational Foundation. He was named executive director in 1990 and his title was later changed to president and CEO. Today he oversees all aspects of operation of one of the state's largest professional associations.
"I am very humbled and honored to be recognized in this way," said Bolinger. "But it is important to note that without the opportunity to work with great staff and volunteers, the recognition would not be possible. Everything I have achieved is due in part to these outstanding professionals."
Under his leadership, INCPAS has:

Established the innovative CPA Center of Excellence®, a wholly-owned subsidiary, in 2014. The CPA Center of Excellence® is a source for competency assessment, competency enhancement and intelligent collaboration for CPAs.
Partnered with the Indiana Board of Accountancy in 2014 on a landmark pilot program that makes Indiana the first and only state to permit competency-based education to qualify for CPA license renewal.
Been a leader in areas such as the future of competency, hyperspecialization and integrated reporting in which INCPAS task forces have published nationally-recognized white papers.
Launched a series of diversity initiatives, including the INCPAS Scholars program, which have been recognized nationally on several occasions.
Created the first integrated report by any state CPA society, and perhaps any association in the country, to serve as an example for its members in this emerging reporting model.
Created the Professional Issues Update in 2000, for which he travels to cities around the state to present to members once a year. It's the most popular and well-attended INCPAS program, from which over 2,000 members get an overview of what's happened in the profession over the past year and what will likely affect them in the future.
In addition to his service to Indiana and INCPAS members, Bolinger has served as a presenter to the AICPA Federal Key Person Coordinator Conference, State Legislative Issues Conference and AICPA/NASBA Conference on State Regulation of the Profession, Indiana Society of Association Executives and CPA Society Executives Association. Additionally, he presented topics for the Institute for Organization Management and the American Society of Association Executives Management Conference, as well as a number of accounting organizations.
Bolinger received national recognition in 2010 when he was named AccountingWEB's Outstanding CPA Association Employee of the Year for 2009. In 2001, Bolinger was named Association Executive of the year by the Indiana Society of Association Executives. In 1998, he received the Indiana CPA Society Chairman's Award. All three awards are given to an individual who has shown outstanding dedication and service to his organization and profession.
About the Indiana CPA Society:
Currently, more than 7,000 CPAs in public practice, industry, government and education are members of the Indiana CPA Society. INCPAS serves the public interest as well as its members. Its members are required to abide by the CPA profession's code of conduct. INCPAS members also receive access to quality educational programs provided by the Society, resources that enable them to better perform their job functions, and peer networking for information sharing that broadens their skills and knowledge base. Indiana CPA Society members are the most highly qualified and competent CPAs in Indiana. Make sure your CPA is a member of the Indiana CPA Society. For more information, visit incpas.org.