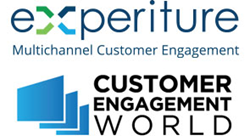 New York, NY (PRWEB) November 04, 2014
Experiture, provider of the world's first Customer Experience Marketing platform, today announces it will be attending CEW 2014 — this year's Customer Engagement World conference at the Javits Center in New York City on Novemeber 5-6 – to exhibit its Omnichannel Customer Engagement solutions.
The Customer Engagement World (CEW) conference — known for its workshops, speakers, case histories and real-world takeaways — is the premier event in New York City focused on brand and customer experience.
Experiture's exhibit at CEW 2014, Booth #508 will feature live demonstrations of its innovative multichannel customer engagement solutions and software -- as well as Free Giveaways. Also, attendees who register with Experiture at CEW may be entitled to limited-time discounts on Experiture software and services.
To pre-arrange a meeting or private demonstration at CEW 2014, contact sales(at)experiture(dot)com, call us on (888) 950-0700, or visit http://cew.experiture.com
About Experiture
Experiture empowers marketers to stop relying on IT and create connected, data-driven cross-channel customer experiences without ongoing technical help. The Experiture customer engagement marketing platform accumulates data from across the organization into a single marketing data warehouse that can be leveraged to create and trigger highly relevant, personalized customer lifecycle marketing programs across web, email, mobile, social, and more.
To learn more about Experiture or schedule a demo, visit: http://experiture.com.
For information about this release or to schedule an interview, contact Experiture: press(at)experiture(dot)com.