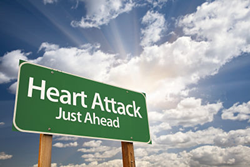 If you are not high risk, you may get dismissed
Calgary, AB (PRWEB) November 04, 2014
Now that Halloween is over there is still something to be scared about. Canadians have an over abundance of sugar in their pantries. Whether you have kids or not, sugar is there. Sugar is living in our closet either from handing out candies or being the recipient of all those sugar laden treats. Many people think cholesterol and fat in our food is the cause of heart attacks, however the number one cause is sugar. The sugar found in Halloween treats and processed foods are really the culprit of heart disease, which is the number one preventable disease if you really know your risk.
Many people think that heart disease could never happen to them but the fact is, unfortunately usually the first symptom is death. Regrettably, John Forzani, legendary Calgarian and former athlete passed away from a heart attack last week, proving once again that heart disease can attack anyone.
The concern is that a cardiologist trying to diagnose a person who does not have heart disease faces some challenges. They know that cardiac exercise stress tests will only show advanced stages of a disease and further diagnostic investigations involves a great deal of radiation. So many times, people who are at risk of heart disease walk out a heart specialist's office with a clean bill of health. "The fact is if you are not high risk you may get dismissed, "says Diamond Fernandes, director of the Heart Fit Clinic.
The Heart Fit Clinic has new state-of-the-art technology screening test to test how healthy are your arteries. Endothelial dysfunction has been shown to be of significance in predicting stroke and heart attacks due to the inability of the arteries to dilate fully. The Endothelial Function Assessment is a great screening tool that is not available at our doctor's office.
Consuming sugary foods and high glycemic foods are at the root of many preventable illnesses. Our bodies need healthy fat, protein, whole foods and fiber for optimal function and wellness. The concern is sugar is highly addictive. The Heart Fit Clinic helps people truly understand their cardiovascular risk and more importantly provide natural remedies to prevent and reverse heart disease which does include healthy nutrition that is not found in our Canadian Health Food Guides.
People who are concerned about their heart health should visit the Heart Fit Clinic to truly understand their cardiovascular risk. No doctor referral is required for the Endothelial Function test and is an investment of $295.