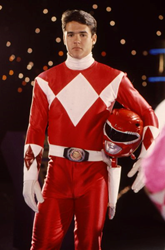 We at Chappell Entertainment are ecstatic to have Austin as our client. His talent and charisma engage a whole new audience as well as MMPR fans worldwide. We are thrilled to be a part of this new chapter in his career.
Orlando, Florida (PRWEB) November 04, 2014
Austin St. John is an actor, martial artist, paramedic, and firefighter best known for his role as Jason Lee Scott, the original Red Ranger and first leader of the Power Rangers in the iconic television series Mighty Morphin Power Rangers (MMPR). Since leaving the show, Austin had taken on the role of a real life superhero.
When his contract ended with MMPR, Austin took a break from Hollywood, embarking on a sabbatical around the world. He eventually settled in the D.C metro area and became a nationally registered paramedic. Coming from a military family, Austin had always felt the need to serve his country. He accepted a position as a contractor and spent years working as a paramedic and/or Tactical Medical Operator in the Middle East, proudly serving alongside our US soldiers and other contractors.
After many grueling years as a paramedic, Austin was finally ready to step back into the spotlight. He wanted to reconnect with his devoted "Team Austin" fans worldwide and use his knowledge, experiences, and image to make a positive difference in the world. Currently, he is signed with Chappell Entertainment as management and is "back to action" touring comic con conventions worldwide, with numerous film and television projects in the works - including a feature special against bullying.
On the heels of returning stateside from the MCM London Comic Con in London, England, St. John will make a guest appearance at the Rangerstop Comic Con in Orlando, Florida this weekend, November 7th-9th, 2014.
St. John will be signing autographs and posing for photos with fans throughout the weekend.
For more information about ASJ and his current schedule, please visit: https://www.facebook.com/austinstjohn
Visit his store for Original Red Power Ranger Memorobilia and Team Austin items: http://austinstjohn.us
Follow ASJ on Twitter:
@ASJAustin
#TeamAustin
#BackToAction
#RedRanger