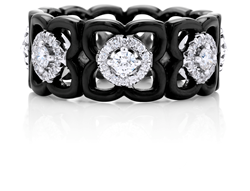 New York, NY (PRWEB) November 04, 2014
De Beers Diamond Jewellers Launches its first ceramic designs with Enchanted Lotus Moonlight & Daylight.
The Enchanted Lotus collection brings together the delicacy of diamonds and the serenity of the lotus flower in an exquisite union embodying eternity, beauty and purity.
Pushing the boundaries of artistry to bring original creations, De Beers introduces open work ceramic in the Enchanted Lotus Collection. The bold contrast of ceramic colour and texture honours the diamonds' brilliance and creates a graphic interpretation of the feminine Enchanted Lotus motif.
This graceful flowering form is symbolic of renewal and the cyclical nature of the sun; awakening at dawn and drawing to a close as night falls. The Daylight Lotus band in white ceramic and pink gold echoes the energy and warmth of the sunrise, while the black ceramic and white gold of The Moonlight Lotus band reflects the mysterious side of the moonlight shining with serenity.
THE DE BEERS DIFFERENCE
De Beers, the Jeweller of Light, creates timeless treasures that reveal and celebrate the wondrous brilliance of women and diamonds. As the definitive destination for diamond jewellery, we have a quest for inner beauty, bringing lightness, femininity and delicacy to our sublime diamond jewellery.
Drawing on diamond mastery since 1888, De Beers hand-select each diamond for its unique beauty to capture unmatched Fire, Life, and Brilliance. Each unique De Beers creation is the culmination of wondrous artistry and the true beauty of the finest diamonds.
De Beers is proud to be the only brand to demonstrate the beauty of its diamonds, using the De Beers Iris. This proprietary technology, found in each De Beers store provides clients with an objective way to see the beauty of their diamond through the eyes of an expert.
THE DE BEERS GUARANTEE
Each piece of De Beers jewellery is certified and each polished diamond above 0.20 carats is microscopically branded with the De Beers Marque. De Beers documents the specifications of your diamond jewellery and is your guarantee that every single diamond is natural, untreated, conflict-free and responsibly sourced and crafted. The De Beers Marque, using technology patented by the De Beers Group, is invisible to the naked eye and ensures that each diamond is individually catalogued in the De Beers diamond registry, confirming its identity as a De Beers official diamond, to provide clients with a total peace of mind.
DE BEERS DIAMOND JEWELLERS
De Beers Diamond Jewellers was established in 2001 as an independently managed and operated company by LVMH Moët Hennessy Louis Vuitton, the world's leading luxury products group, and De Beers SA, the world's premier diamond mining and marketing company.