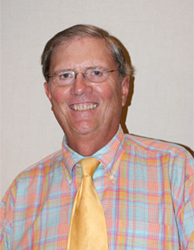 Fairfax, VA (PRWEB) November 03, 2014
Some seventy percent of American adults are missing one or more teeth by the age of forty. Dr. J Alexander Withers introduces a rapid and effective dental implant technique that provides new hope to Fairfax, VA patients who have been living with missing teeth. With the All-on-4™ technique, replacement teeth are secured to four titanium implants placed strategically in places of maximum bone strength in the jaw. With proper care and good dental hygiene, the dental implants can last a lifetime with replacement teeth that look and feel natural.
Many people seek traditional solutions to tooth loss, such as a bridge or denture to fill the holes left by the loss of one or more natural teeth. Unfortunately, many traditional solutions lead to increased problems in the long run. A bridge used to replace one or two missing teeth relies on the adjoining healthy teeth for support. The healthy teeth used to support the bridge are cut down, leaving them more prone to decay and other problems.
Traditional dentures often slip or click while the wearer is talking or eating. Worse, the dentures ride on the gums, putting pressure on the delicate gum tissue. The jawbone lacks the normal healthy stimulation that it received from the roots of the teeth, resulting in bone loss.
Fortunately, advanced dental implants that are now available in Fairfax, VA do not have these problems and limitations. The titanium posts placed in the jawbone contribute to ongoing bone strength and full dental health. With All-on-4™ implants, patients are able to eat a healthy and varied diet. The replacement teeth function much like natural teeth, without the movement experienced with traditional dentures.
For all the details about the All-on-4™ dental implants that Dr. Withers uses for his Fairfax, VA patients, visit his website at http://www.withersperio.com. Call (703) 997-4211 to schedule a consultation to learn more about all the options available for patients with missing teeth.
About the Doctor
Dr. J. Alexander Withers Periodontics and Implant Dentistry is a periodontal practice offering professional dental care for patients in Northern Virginia. Dr. Withers received a Bachelor's Degree in Biology, and earned his D.D.S. degree from The Medical College of Virginia. Dr. Withers has been named in the Top Dentists by the Washington Magazine, Checkbook Magazine and Consumer Research Council of America and Northern Virginia Magazine. To learn more about Dr. J. Alexander Withers Periodontics and Implant Dentistry and their dental services visit their website at http://www.withersperio.com/ or call (703) 997-4211.