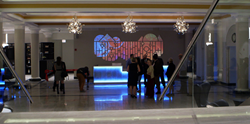 "We really wanted to honor that contradiction," said J. Matthew Nix
Chicago IL. (PRWEB) November 05, 2014
Chicago Projection Mapping (CPM), a Chicagoland-based content and 3D projection company, has recently completed installation of a custom projection sculpture at Somerset Place in the Uptown neighborhood of Chicago. Named "The Sun at Somerset," the high-tech installation was designed to honor the historic roots of the Somerset Place apartments, and compliment the recently completed renovation to the building.
Located in the West Argyle Street Historic District, Somerset Place is part of a proud Chicago historical lineage. Adding a high-tech, ultramodern 3D projection to the interior of such an historic building might seem, at first, counter-intuitive. This is especially true when considering the technical achievements needed to complete the residential projection sculpture: 73 individual mapping panels, original music, original sound design, a one of a kind automated start-up sequence, and over 45 minutes of custom content.
Because of its high-end clientele, Somerset Place proved to be an exceptional venue for Chicago Projection Mapping's innovative, but unobtrusive, venue-custom 3D sculptures. The residents expect something above and beyond the normal, something that eschews the traditional and makes a bold statement without being obtrusive. The display premiered on October 2nd at the grand opening of Somerset Place and drew critical acclaim from both residents and Zidans Management Group, who initially commissioned the residential 3D projection sculpture.
"We really wanted to honor that contradiction," said J. Matthew Nix, project lead for Chicago Projection Mapping. "There's something compelling about stainless steel appliances and granite countertops sharing space in such a historic structure. We drew inspiration from that contrast, and we have been genuinely pleased by the response."
The Sun at Somerset marks a turning point in permanent 3D projection. Similar installations are being outlined for luxury condos, community buildings—even dormitories and hotels—as real estate becomes more competitive and properties of all kinds continue to look for a way to stand out. For estimates or quotes on a system that will give residents in your area something to talk about, please email info(at)ChicagoProjectionMapping(dot)com.
About Chicago Projection Mapping: Based in Chicago, IL, Chicago Projection Mapping is a full service content creation and 3D projection mapping company, serving the corporate, event, meeting, and convention sectors. For more information, please visit http://www.ChicagoProjectionMapping.com, or call 630-620-0000.