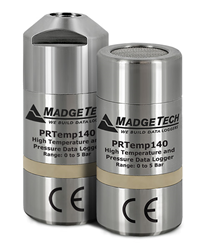 Warner, NH (PRWEB) November 04, 2014
The compact size of this dual purpose single device, saves room in sterilizers allowing more flexibility for placement and ease of use. The PRTemp140 is also ideal for use in a number of other pressurized processes such as canning, cooking pouches and beverage production including wine and soda.
Featuring the ability to measure temperature from -40 °C to 140 °C, and pressure from 0 bar to 5 bar, the PRTemp140 boasts extreme accuracy with ±.1 °C and ±0.03 bar, respectively.
This two channel data logger is capable of taking readings as often as once every second, specifically helpful for compliance with section 8.4.2 of the EN guidelines for small steam sterilizers. The memory capacity on this data logger stores up to 32,700 time and date stamped readings and will retain recorded data even if the battery becomes discharged.
Using the MadgeTech Software, controlling devices and organizing collected data is simple. Once data has been downloaded, it can be viewed in graph reports or tabular formats as well as summary view. All downloaded data is automatically saved to the MadgeTech Software internal database data can be easily exported to Excel® for further analysis or custom calculations.
For more information on the PRTemp140, please call MadgeTech at (603) 456-2011, or email info(at)madgetech(dot)com.