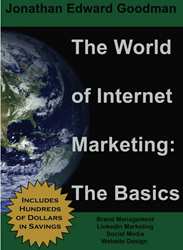 "I made the decision that corporate life wasn't for me." – Jonathan Goodman
Jersey City, NJ (PRWEB) November 04, 2014
Jonathan Goodman, president of Halyard Consulting was interviewed by Leslie Truex of Work At Home Success on the subject of working from home and the growth and change of internet marketing. The interview is found on her website and on iTunes.
Leslie began her interview by asking Jonathan to talk about his background and how he came to work at home. He started his career during the dot com era and helped several corporations develop an online eCommerce strategy. After awhile he became disillusioned by corporate life and decided to go out on his own.
He took his experience, education and knowledge and began Halyard Consulting, an Internet marketing firm that works with small and medium-sized businesses that are focused on local customers. The interview went on to discuss his wide range of education, particularly his fine arts degree. When asked if it had relevance to his current career, Jonathan stated that it helped him look at things differently and think outside the box for his clients.
The interview then turned to the way Internet marketing has changed, especially with Google tightening its response to content and the move towards mobile. Jonathan is working to get his clients to focus on videos because it is unique content that cannot be duplicated. He talked about the step-by-step process he has created to re-purpose content from video to audio to text.
Jonathan discussed the increase in attention that social media is receiving and how he works with clients to advertise on Facebook, LinkedIn and Twitter. Because it is more targeted than other advertising, the return on investment is much greater. Demographics play a key role in Facebook and allows businesses to select pinpoint accuracy when selecting who they want to advertise. Jonathan also talked about Facebook Open Graph and Google's Semantic Web and how they provide targeted ads to users based on their interests.
Jonathan and Leslie had an in-depth discussion about how these changes benefit not only the businesses that use internet marketing and social media but the customers they serve. Instead of seeing and hearing ads that have no relevance, users are now being shown ads that will be of interest to them.
Jonathan Goodman is not only president of Halyard Consulting but the author of the book The World of Internet Marketing and renowned speaker. He also hosts a podcast for The World of Internet Marketing where he provides the latest news and information to businesses.
About Halyard Consulting
Halyard Consulting is a New Jersey based Internet Marketing company focused on improving online results for businesses with geographically specific clientele. The company was established in 2007 to provide entrepreneurs with services allowing them to leverage online tactics often used by Fortune 500 companies. Gaining top ranking in the search engines is one of the most crucial aspects for Internet success. Small businesses used to rely solely on traditional marketing strategies like newspapers, commercials, and radio. Today, being visible online is the only true path to success.
About Jonathan Goodman
Jonathan Goodman is the founder of Halyard Consulting, an Internet marketing and public relations firm, located in New Jersey. Jonathan is the author of The World of Internet Marketing book series, written for small business owners, managers and others interested in cutting-edge marketing techniques. The first book in the series enables readers to take online marketing fundamentals and broaden revenue streams for their companies. Additional books to be released in 2015 will include critical information about YouTube marketing, Facebook advertising, and cloud computing.
Contacts:
Jonathan Goodman, President
Halyard Consulting
Phone: (800) 641-9157
Email: jgoodman(at)halyardconsulting(dot)com