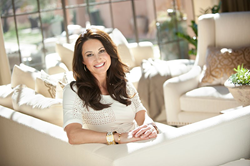 "We wanted to kick off this holiday season in a fun way with a special Twitter party. We are giving away great prizes that our customers can use to either pamper themselves or give as gifts." - Jinine Martin, Director of Marketing, SkyMall
Phoenix, AZ (PRWEB) November 04, 2014
SkyMall, the iconic product catalog that reached 600,000 air travelers last year, is kicking off its Holiday season with a Twitter Party featuring award-winning celebrity designer Jennifer Adams as special guest.
Twitter parties are fun, fast-moving, sponsored online events organized around a hashtag that let fans, followers, and the public at large interact with brands and celebrities.
"It's truly an honor to be in the holiday issue, and I can't think of a better way to celebrate year' season than to throw a party (on Twitter)!" - Jennifer Adams, featured on the cover of this quarter's SkyMall Magazine
At this Twitter party, Adams will discuss home improvement tips including her special brand of advice on everything from getting your kids to clean up their rooms to picking out the perfect kitchen color. During the party, participants can send their holiday, home décor and lifestyle questions on Twitter using the hashtag #AskJenniferAdams.
"We've had great success in the past with engaging our customers with social media. We thought it would be fun to kick off this holiday season with a special Twitter party. Our goal is to help make our customers' holidays easier. Plus, we are giving away great prizes that they can use to either pamper themselves or give as gifts." - Jinine Martin, Director of Marketing, SkyMall
The SkyMall/Jennifer Adams Twitter Party will happen on Thursday, Nov. 6, from 7 to 8 PM (EST). Anyone with a Twitter account can join in the fun by searching on the hashtag #SkyMall.
About SkyMall
SkyMall, one of the most recognized brands in North America, is a multi-channel retailer most known for its in-flight catalog and website, SkyMall.com. The catalog will reach nearly 600 million passengers in 2014, and it features unique and innovative merchandise including electronic gadgets, home and garden, travel, pets, and gifts. All products shown in the SkyMall catalog plus thousands more are available at SkyMall.com. SkyMall was founded in 1990 and will be celebrating its 25th Anniversary in 2015.
About Jennifer Adams Worldwide
A classic American, rags-to-riches success story – from cleaning houses to award winning celebrity interior designer – Jennifer Adams has grown her decor empire into a worldwide brand. Since starting her design firm in 1999, Jennifer has been driven by her passion for designing products that help people "love coming home" as well as providing solutions and advice for people with home décor and lifestyle questions. Jennifer Adams Worldwide, Inc. includes an impressive portfolio of products including luxury, hotel quality and fashion bedding, fabrics, furniture, scented home accessories, bath accessories, whole house cleaning products, pet beds and accessories, apparel, area rugs and now kitchen textiles. A Dear Abby meets Martha Stewart, she writes the Ask Jennifer Adams newspaper column seen in major market newspapers every week. Her recently released book Bedrooms that Inspire is the first in a series of beautifully photographed books on interior design. Learn more at http://www.JenniferAdams.com.