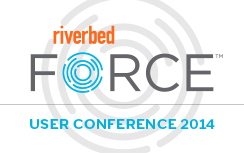 As a technology partner, we look forward to the opportunity to continue getting to know Riverbed users and better serve them.
Buffalo, NY (PRWEB) November 04, 2014
Garland Technology, experts in the field of network design, including network analyzers, next-generation firewalls, computer forensics analysis and data capture, application performance monitoring and more, is a gold sponsor of the Riverbed FORCE Show this year. Garland Technology will be attending the show alongside Big Switch Networks, an SDN (software defined network) focused firm.
Riverbed FORCE will feature a multitude of keynote speakers and session speakers for the annual event. Some of these sessions include, but are not limited to:

Riverbed for Riverbed: "Know Thy Cloud" to Achieve Peak Performance in a Hybrid World, featuring Ginna Raahauge, CIO at Riverbed.
Customer case study sessions from Caterpillar, Blue Cross Blue Shield, International Justice Mission and Shell to name a few
Foundations for Traffic-Management and Monitoring for Optimal User Experience, featuring how SteelHead with QoS, Path Selection, Shark and ARX (RiOS v9.0) integrate into SteelCentral NPM and APM
Is Software-Defined Networking Ready for The Hybrid-Enterprise? Featuring Andre Kindness, Principal Analyst, Forrester
As a proud partner of Riverbed technology and a sponsor of Riverbed FORCE 2014, Garland Technology will be exhibiting solutions customized for Riverbed users at the event this year. "FORCE is a great conference," says Garland Technology CEO Chris Bihary. "As a technology partner, we look forward to the opportunity to continue getting to know Riverbed users and better serve them."
"FORCE gives our users a chance to see how all of the technologies in the Riverbed ecosystem come together," said Katie Colbert, vice president, global technology alliances at Riverbed. "In addition to showcasing our partners, the conference gives us a chance to announce new products and features, like the Riverbed-Ready Technology Alliance program."
Riverbed FORCE is taking place at the San Jose Convention Center in San Jose, CA from November 3rd to the 6th. Registration details can be found here: https://secure3.aetherquest.com/riverbedforce2014/
About Garland Technology:
Garland Technology guarantees precise data monitoring capabilities with a full line of access products: network TAPs that support aggregation, regeneration, bypass and breakout modes; packet brokering products; and cables and pluggables. We want to help you avoid introducing additional software, points of failure and bulk into your network. Garland's hardware solutions let you see every bit, byte, and packetTM in your network.
Not an expert in network TAP technology or network connectivity? That's all right. Garland's design and education-based approach takes you from square one to network design specialist. Garland also works with your vendor of choice in the solution areas of network analyzers, intrusion detection, intrusion prevention systems, bandwidth management, computer forensics, data capture, content filtering, data leakage prevention, and lawful interception. Your Garland Technology network designer works directly with you and your team to meet your network access needs and provide you with the best solution.
Visit garlandtechnology.com for additional information, and let us help your company with its network visibility needs. For more information, visit http://www.garlandtechnology.com.
Riverbed FORCE 2014
Riverbed FORCE 2014, November 3 – 6 at the San Jose Convention Center, gathers global IT leaders and industry pioneers to focus on The Hybrid Enterprise: How to Make Yours Perform at Its Peak. FORCE offers attendees thought-provoking General Session keynotes from industry experts; free technical certification testing; a Riverbed-Ready Technology Partner Pavilion; and 80 hands on labs and technical sessions that deliver in-depth training with hybrid architectures and solutions in performance management, WAN optimization, branch converged infrastructure and application delivery. More than 1,000 customers, technology partners and industry and Riverbed technology experts are expected at this premier event. Learn more at http://www.riverbedforce.com.