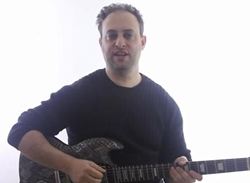 I want to show you a couple of Funk chords you can use
(PRWEB) November 04, 2014
"I want to show you a couple of Funk chords you can use," says Johnson. The first chord Claude teaches is the Nine Chord and he refers too as the "James Brown chord". Claude demonstrates how to perform it as follows; 6th fret of the 4th string with first finger and bar 3rd finger across the 7th fret of the first three strings. "This chord is often slid into from a half step below," says Johnson. Claude continues by playing variations of this voicing such as the m7b5 (minor seven flat five) and the m6 (minor sixth). "You can also just use normal seventh chords," says Johnson. Claude continues by performing a variety of other voicing's that are great for Funk and recommends experimenting on your own with other chord voicing's. Guitar TAB's are available for this easy funk rhythm guitar lesson at GuitarControl.com.
Funk guitar is very rhythm oriented and often in the background. The fretting hand usually does very simple chords, but is released immediately after it is strummed to "mute" the sound since chords are seldom supposed to ring out in funk. Long durations of a song may be a single chord played repeatedly. Funk is all about locking into the "groove" with the drummer.
Claude Johnson
Claude Johnson, a native of Philadelphia PA, began playing guitar in 1990 after being inspired by players like Jimi Hendrix, Eric Clapton, and Stevie Ray Vaughn. He is the creator of GuitarControl.com and has helped 1000's of people to learn to play the guitar with his critically acclaimed instructional DVD courses, all available at GuitarControl.com
About GuitarControl.com
GuitarControl.com is the leader in modern guitar instruction. It's packed with recourses including articles, video lessons, and the best videos in the business for the beginner to the advanced guitar student taught by the best instructors out there. Weather you are into the blues, rock, jazz, metal, folk, or anything in between, they have you covered.