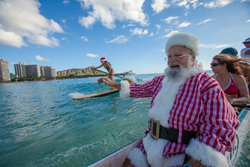 WAIKIKI, HONOLULU, HAWAII (PRWEB) November 03, 2014
This holiday season, Outrigger Resorts is saying 'Mele Kalikimaka' with festive holiday activities including two special appearances by Mr. Claus himself. On Dec. 13, Santa will arrive by canoe at Outrigger Waikiki Beach Resort for a special meet and greet. Additionally, families can enjoy a jolly good breakfast with Mr. Claus at Kani Ka Pila Grille at Outrigger Reef Waikiki Beach Resort on Dec. 16 and 17. Visitors and kamaaina are also invited to take a front row seat at the '7 Days Till Christmas' music showcase at Waikiki Beach Walk®, Dec. 19 through Christmas Day.
Santa Arrives by Canoe at Outrigger Waikiki Beach Resort
Saturday, Dec. 13, 9 a.m.
Santa Claus is coming to town! He's leaving his sleigh behind and arriving by outrigger canoe on the shore at Outrigger Waikiki Beach Resort. He will be greeted by keiki of Halau O Pua Kahale followed by a meet-and-greet and complimentary photos with Santa in the hotel lobby. The signature event is free and open to hotel guests and the public.
Breakfast with Santa at Outrigger Reef Waikiki Beach Resort
Tuesday, Dec. 16 and Wednesday, Dec, 17, 8 to 10 a.m.
Keiki are invited to get in the holiday spirit by having Breakfast with Santa at Kani Ka Pila Grille at Outrigger Reef Waikiki Beach Resort. Keiki and parents will enjoy a hearty breakfast buffet with eggs, bacon, Portuguese sausage, rice, country fried potatoes, assorted pastries, and tropical fruit platters, plus they can partake in fun-filled activities including balloon twisting, face and body art painting, and picture taking and one-on-one time with the jolly guy himself. Cost is $27 for adults and $13 for children three to 11 years. Children under two years eat free. Reservations required, call 1-808-924-4993.
7 Days Till Christmas
Friday, Dec. 19 to Thursday, Dec. 25, 6 to 7 p.m.
There's no place like Waikiki Beach Walk® for the holidays! The shopping, dining and entertainment complex will host 7 Days Till Christmas, a free music series kicking off at the Plaza Stage. For seven festive nights, locals and visitors alike are invited to hum along to their favorite holiday carols and island melodies with live music and merriment by some of Hawaii's most renowned performers.
Special Performance by Ka Hale I O Kahala at Outrigger Waikiki Beach Resort
Saturday, Dec. 20, 4 p.m.
Halau Ka Hale I O Kahala will be spreading the holiday cheer throughout the Outrigger Waikiki Beach Resort lobby with a festive hula performance. The event is free and open to hotel guests and the public.
The holidays are one of the most popular and busiest times of the year in Hawaii with visitors choosing to escape the cold, so early reservations are a must. Hotel reservations can be made by contacting your preferred travel agent or call toll free 1-800-OUTRIGGER (1-800-688-7444) within the United States, Guam and Canada. Elsewhere call direct to 303-369-7777 (long distance charges apply). Or, visit http://www.outrigger.com or e-mail reservations@outrigger.com.
-30-
About Outrigger Enterprises Group
Outrigger Enterprises Group is one of the largest and fastest growing privately held global hospitality companies in the Asia Pacific, Oceania and Indian Ocean regions. As part of its unique hospitality offering, the values-based company extends exceptional hospitality and authentic cultural experiences at each of its properties worldwide. Guided by more than 67 years of family leadership, Outrigger runs a highly successful, multi-branded portfolio of hotels, beachfront resorts, condominiums and vacation resort properties, including Outrigger® Resorts, Hawaii Vacation Condos by Outrigger®, OHANA® Hotels and Resorts, Embassy Suites®, Holiday Inn®, Best Western®, Wyndham Vacation Ownership® and Hilton Grand VacationsTM. Currently, Outrigger operates and/or has under development 45 properties with approximately 11,000 rooms located in Hawaii; Australia; Guam; Fiji; Thailand; Mauritius; Maldives; Vietnam; and Hainan Island, China. For online information, log on at http://www.outriggerenterprisesgroup.com and http://www.outrigger.com.
Join Outrigger's social network to Find Out. Find Outrigger! Follow @OutriggerResort on Twitter or become a fan on Facebook at http://www.facebook.com/OutriggerResorts. For ongoing news, visit http://news.outrigger.com.
###
Note: Outrigger Resorts is sensitive to and understands the importance of diacritical markings. In mediums where the reproduction of these markings is true (i.e., in print), diacritical markings will be used. If a communication crosses several mediums to include the Web, which does not always reproduce diacritical markings correctly, diacritical markings will not be used.