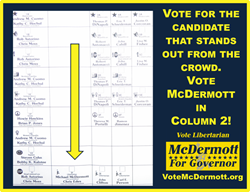 This is the year of the Libertarian where We the People shall restore our lost liberties and freedoms. We are encouraged by the overwhelming support we have received from all over the state.
New York, NY (PRWEB) November 04, 2014
In New York State third parties face an uphill battle. Ballot access laws make it difficult to get on the ballot. Press coverage is thin or non-existent. Voters tend to focus on candidates that have a chance to win. But two significant trends have combined to produce a new wave of voters who are naturally libertarian in their political philosophy even if they don't identify themselves as such. First, voters are increasingly dissatisfied with the Democrats and Republicans. A recent Rasmussen poll finds that a mere 8% of voters think Congress is doing a good job. According to a Gallup poll voters who self-identify as Independents (42%) far outnumber Democrats (31%) or Republicans (25%). At the same time support for core libertarian positions such as marriage equality and ending the drug war has exploded. The fiscal meltdown of 2008 convinced many voters that government does not have economic solutions and may very well be a big part of the problem. 2010 Libertarian Presidential candidate Gary Johnson put it this way "Most Americans" he said are "fiscally responsible and socially tolerant."
The Libertarians believe their message of "personal freedom and economic freedom" resonates with voters but they point to entrenched Democrat and Republican control of the election process. Ballot access laws are primarily enforced by Boards of Elections almost entirely made up of Democrat and Republican political appointees. Catch 22 restrictions prevent third candidates from participating in the Presidential debates, for example, requiring a candidate to poll at a certain percentage even when their names aren't included in the polls. The Presidential Debate Commission (who make the rules) is also comprised of Democrat and Republican Party leaders.
New York Libertarians say they have had their share of unfair treatment. For example, Gigi Bowman, Libertarian candidate for State Senate (5th District) spent the last 8 weeks in a tangled legal battle with incumbent Carl Marcellino who sued to remove Bowman from the ballot. Bowman eventually won, and is on the ballot. But some news organizations excluded her from candidate profiles and news coverage until the outcome of the suit was known.
According to Libertarian candidate for Governor Michael McDermott one of the obstacles is that "We don't have our own line on the ballot. Unlike every other (Gubernatorial) candidate, I was shoved onto a shared line. Voters have to look for my name in column 2."
This year could be the turning point. New York election law requires a political party to win 50,000 votes for Governor in order to be "recognized" as a political party. Recognized parties have much less stringent requirements in order to appear on the ballot. Easier ballot access means the Libertarians can run many more candidates and that makes it easier to bring their message to the voters.
McDermott recently published a "Five Point Plan to Save New York" including eliminating the state income tax, stopping Common Core and ending the drug war. He says the response has been "overwhelming and positive". "We are going to surprise everyone on Tuesday. This year we change everything."