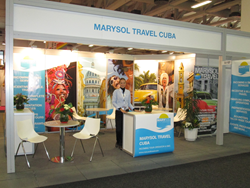 We would like to introduce Cuba as a destination offering quality, professional service, where it is possible and worth being creative.
Havana, Cuba (PRWEB) November 05, 2014
Marysol Travel Cuba will present its new travel portfolio and incentive catalog in Barcelona at EIBTM in November 2014. This special new portfolio combines traditional cultural and historic sites with special interest elements, showing a new and exciting face of Cuba. The new approach breaks with previous travel clichés and offers newly demanded concepts, such as "Experimental Learning," "Sustainability" or "People-to-People Connection." This novel concept caters to the changing needs and preferences of travelers today, offering unique solutions for the group and incentive travel markets that are always looking for new and extraordinary destinations.
Marysol Travel Cuba fulfills these ideas with an innovative approach, out of the box thinking and creative solutions, forming them into a unique program with tailor made itineraries and a complete travel experience for the clients.
"Every single one of our programs is unique; there are no two identical itineraries, as there are no two identical clients, either. The only thing all of our programs have in common is the authenticity and professionalism. Furthermore the respect of the environment is very important to us. Our colleagues are committed animal lovers and environmentalists both at work and at home. People-friendliness and love of nature shines through all of our programs, whether it is incentive travel, team building, VIP travel, group, or private travel," said Mr. Thomas Nagy the Commercial Director of Marysol Travel.
The new portfolio and the introduction of new program elements are only the first step in Marysol Travel's efforts to renew Cuba's touristic potential. The new portfolio offers comprehensive coverage for the meeting and incentive industry. Marysol Travel Cuba is one of the largest independent 100% foreign owned incoming tour operators who operate in Cuba with European management. Their representation office in Havana offers additional advantages, alternatives and innovation to their partners.
"We would like to introduce Cuba as a destination offering quality, professional service, where it is possible and worth being creative. With the right local DMC partner these goals can be realized successfully," informed Gabriella Szabo, Marysol Travel's CEO.
About Marysol Travel Cuba:
Marysol Travel Cuba is an Incoming Tour Operator & DMC based in Cuba specializing in delivering a full range of first class travel services for Tour Operators and Travel Agencies, with a special focus on European and International group travel to Cuba. Our core values are authenticity and professionalism. Our international management ensures that our services live up to international standards, while our local staff provides unmatched knowledge and direct access to all areas of Cuba. Our Representation Office in Havana guarantees that we personally take care of every detail locally. We are endorsed by the Cuban Ministry of Tourism and the Cuban Chamber of Commerce. You can book our services with confidence in superior service and at preferential local prices.
For more information about travel to Cuba:
MARYSOL TRAVEL CUBA
Website: http://www.particularcuba.com; http://www.cubanaturetravel.com; http://www.cubaluxuryrent.com
Corporate website: http://www.marysoltravel.com
E-mail: info(at)marysoltravel(dot)com
Tel: +53 7 214 4999 / Cuba