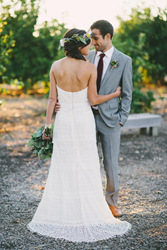 "We wanted to connect women around the world so they can help one another," states founder and CEO Marcie Muehlke
Boston, MA (PRWEB) November 05, 2014
Beyond beautiful – wedding "gowns that give back": Celia Grace connects women around the world through gorgeous, ethically-made wedding dresses.
In the United States, weddings are a $51 billion industry with the average wedding running between $25-30k. While many wedding vendors see this as a chance to watch their profits soar, one company sees it as the opportunity to do good in the world. Celia Grace fair trade wedding dresses is a brand built by two businesswomen who are working to change the direction of the wedding industry – to point its moral compass to be more green and ethical. Celia Grace does this by partnering with and empowering poverty-stricken women and their families overseas.
Each of Celia Grace's dresses symbolizes new beginnings--not only for the happy couple, but for its seamstresses as well. "We wanted to connect women around the world so they can help one another," states founder and CEO Marcie Muehlke. The company's partnership with highly skilled fabric and dressmakers in destitute countries does just that by providing much needed employment and safe opportunities to women struggling to make a decent wage.
At Celia Grace, their mission also boasts an environmentally responsible facet. From 2010 to 2011 the percentage of women planning a green wedding jumped by 30 points, proving that brides today are looking for more from their vendors than glitz and glamour. Celia Grace debuted their 2015 collection at Bridal Fashion week 2014 as the first ever fair trade wedding dress provider. For this collection Celia Grace has created an eco-conscious line of dresses sourced from sumptuous, locally woven silks and natural fibers that are then transformed by hand into stunning one-of-a-kind pieces.
Celia Grace was launched by Marcie Muehlke as a way to create the socially responsible wedding gowns she had dreamed of, but had been unable to find, for her own wedding. Her friend and business partner, Alix Kivlin, is the head designer and creative force behind the brand. After spending a decade designing for tops womenswear brands. By working together with an amazing group of seamstresses in Cambodia, a simple dream has transformed into a partnership that spans the globe.
For samples or additional information, please visit http://www.celia-grace.com or contact Leah(at)chicblvd(dot)com.
Contact:
Leah Cybulski
Account Executive
ChicExecs PR
http://www.chicexecs.com
1487 Poinsettia Ave. Ste. 125
Vista, CA 92081
708.426.8730
ChicExecs PR is an "out of the box" PR company, which represents over 100 clients. ChicExecs has created an innovative approach to PR dedicated to helping small-medium businesses receive media coverage. Our revolutionary automated system is changing the face of PR. To learn more about ChicExecs visit http://www.chicexecs.com.